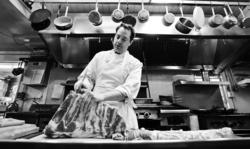 "Incorporating a nose to tail philosophy in our kitchen has allowed us to take buying local to the next level. It inspires a more diverse menu, makes good economic sense, and gives us full control over product quality.
Perkinsville, Vermont (PRWEB) May 17, 2012
Vermont Chef Jason Tostrup of the Inn at Weathersfield returns to the James Beard House in New York City to host a nose to tail veal dinner on June 4. For the first time in the history of the Beard House dinners, Tostrup is bringing his farmer partner, Lisa Kaiman owner of Jersey Girls Dairy in Chester, VT, to participate in the event.
Tostrup purchases several whole male veal calves from Kaiman each year. In his five course menu, Vermont Veal Renaissance, Jersey Girls' veal will be featured five ways, in combination with a host of other local farm products characteristic of Tostrup's VerTerra cuisine. The menu is paired with five wines provided by The Vermont Wine Merchants Company.
Kaiman began selling veal calves to supplement the revenue of her small dairy farm and Jason Tostrup was her first customer. "These boys are considered waste on most dairy farms. At my farm, we raise them humanely and sell them as veal to local restaurants. Chef Jason is able to use every bit of the animal, nose to tail, and that makes good sense for everyone," says Kaiman.
Recently featured in an article on nose to tail cooking in Vermont Life magazine, Tostrup explains that buying whole animals from the farm not only supports local agriculture in the most direct way, but it pushes him to be a better chef as he explores new ways to use all parts of the animal on his menus.
Total commitment to buying local is the cornerstone of The Inn at Weathersfield's cooking philosophy—one that goes beyond buying local produce, eggs and cheeses to purchasing whole animals that are pasture raised and lovingly cared for by neighboring farmers. As a result, the Inn has established long-term relationships within the agricultural community.
Tostrup says, "Incorporating a nose to tail philosophy in our kitchen has allowed us to take buying local to the next level. It inspires a more diverse menu, makes good economic sense, and gives us full control over product quality. It's the way things used to be done when food was community based and is an important way of viewing our food supply."
Chef Tostrup is one of 36 Vermont chefs to be invited to cook at the James Beard House since 1992. In 2006, as chef of the Inn at Weathersfield, he cooked at the Beard House as part of the Great Getaway Series featuring some of the finest culinary getaways in the country.
Owners David and Jane Sandelman will be celebrating the Inn's 10th Anniversary this summer with a series of special events. As part of the festivities the Vermont Veal Renaissance Dinner will be offered at their Restaurant VerTerra, July 18-22. During that week the veal menu will be included in their GPS Farm to Table Package. "This unique package includes use of a custom programmed GPS loaded with the location of our farmer partners. Inn guests can visit Jersey Girls Dairy and other area farms we work with, then return to the Inn to enjoy the veal dinner and comfortable accommodations," says Jane Sandelman. The Farm to Table Package is available throughout the summer, but the veal menu served at the Beard House will only be available July 18-22.
The James Beard House dinner is not only a showcase for the Inn's VerTerra cuisine, but is an important part of the fundraising efforts for the James Beard Foundation. Tickets for the dinner can be purchased online through The James Beard House.
The James Beard House was established in 1986 in honor of the late cooking teacher, journalist and food consultant James Beard, who is widely considered the father of American gastronomy. The Foundation's mission is to celebrate, preserve, and nurture America's diverse culinary heritage and future.
The Inn at Weathersfield is a full service Vermont country inn, with 12 luxurious guestrooms and farm to table dining. Located close to Woodstock, Vt. and Okemo Mountain Ski Area, it is an excellent starting point for a New England adventure. Guests may dine in the 1880's dining room, a casual tavern, or in the wine cellar with the Inn's award winning wine collection. Media may email stay(at)weathersfieldinn(dot)com or call Jane at 802-263-9217 for high-resolution images, electronic press kits, menus and other collateral materials.