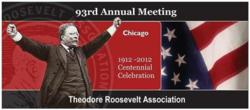 Chicago, IL (PRWEB) May 18, 2012
"We are pleased to honor Sen. Conrad—who will retire from the United States Senate in December after 26 years—for his long and exemplary career as a public servant both in North Dakota and in the United States Senate," said Tweed Roosevelt, president of the TRA and a great grandson of Theodore Roosevelt. "A lifelong fan of President Roosevelt, Senator Conrad is a fine example of the kind of public servant TR admired. He has also been a loyal supporter of the TRA and played a critical role in Theodore Roosevelt posthumously receiving the Medal of Honor for his charge up San Juan Hill on July 1, 1898 during the Spanish-American War. Without the support of Senator Conrad, Theodore Roosevelt might never have received this recognition. The TRA is grateful for all that Sen. Conrad has done for the memory of Theodore Roosevelt, for the Association and for the American People."
The TRA Annual Meeting also will feature esteemed historians who will bring to life the Progressive Party era, the formation of the Bull Moose Party, and the failed assassination attempt in 1912 on Theodore Roosevelt's life. The meeting will kick-off on October 25th with a special event offered in partnership with the Pritzker Military Library of Chicago and the Reserve Officers Association, in which three distinguished scholars will discuss TR's relationship with and use of the U.S. Military to advance his foreign policy objectives.
The TRA also will have the honor of presenting three awards this year: The Theodore Roosevelt Medal for Public Service (to Senator Kent Conrad); the Rose Award, recognizing special contributions to the TRA; and the Junior Officer of the Year Award. The latter honors the junior officer from the USS Theodore Roosevelt (CVN-71), the Navy's "Big Stick," who best exemplifies the qualities of leadership, pride, professionalism and dedication to duty that were inherent in President Theodore Roosevelt.
In addition, the TRA will present a special plaque of appreciation to the United States Secret Service in honor of Agent William J Craig, who gave his life in 1902 protecting Theodore Roosevelt in a tragic accident.
Complete details of the meeting schedule, registration, and sponsorship information are at http://www.traannualmeeting2012.org.