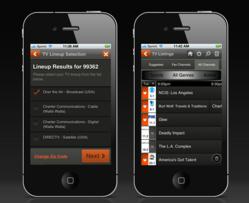 Seattle, WA (PRWEB) May 15, 2012
As Americans continue to look for creative ways to save money and get the best of entertainment, millions of households now turn to options like over-the-air (OTA) broadcast TV, online and streaming video sources for their television fare. But for the 5.1 million households who rely on broadband and OTA broadcast, and the hundreds of millions more who watch online, the lack of a comprehensive channel guide suited for their day-to-day needs can be a major obstacle to finding what they want to watch.
The BuddyTV Guide app, the free, top-rated television guide app from BuddyTV, is changing that by adding more than 40,798 unique zipcodes to its channel guide service -- almost 100% of the zipcodes in the US. Now OTA TV viewers can access their local channel listings and streaming accounts on their smart devices using the BuddyTV Guide app, and even create their own channel guide that reflects their personal television consumption habits. The app curates up-to-date listings for the user's broadcast channels and streaming accounts like Netflix and Amazon Instant, and also provides recommendations based on the user's favorites across all types of programming.
For consumers with broadband and OTA television without an on-screen channel guide, the BuddyTV Guide app is simply the easiest and fastest way to see what's airing.
"The beauty of the BuddyTV Guide is that the same filtering and personalization features that help our cable users cut through the clutter of their massive channel guides can provide an equally compelling experience for users with over-the-air broadcast, which comes without a channel guide," said BuddyTV CEO Andy Liu. "Either way, there's no need to waste time flipping channels trying to find the right show. With BuddyTV, you'll always know what's on."
The user can tailor the BuddyTV Guide to show just their favorite channels, or just the channels they get on OTA broadcast, and see a channel guide built specifically for them. The BuddyTV Guide syncs with the user's location, so all the user's local channel numbers, airtimes and program descriptions are right there inside the app every time they log in.
Users can further filter their listings by picking their favorite shows, filtering the lineup by program type and blacklisting channels or shows they don't want to see. Any user can also set reminders for their favorite programs, enabling the app to send alerts to their phone or tablet informing them when an episode is about to start.
In fact, the possibilities with the BuddyTV Guide's curated approach to channel listings make it easier for everyone to manage their entire television viewing lifestyle anywhere they go:

Over-the-air viewers can see a personalized guide for just the channels they receive
Streaming viewers can create favorites and receive personalized recommendations for the most popular streaming sites
Cable viewers can build a personalized guide showing just their favorites or filter the full guide by their tastes
Viewers with multiple TVs can access a full channel guide from anywhere, including rooms without a digital cable box
Viewers with compatible DVRs, smart TVs and devices, including DirecTV DVR, GoogleTV and AT&T U-Verse, can also use the app as their remote control
Once a user finds what they want to watch, they are provided with even more options for enjoying the show. The BuddyTV Guide includes access to entertaining articles and slideshows from BuddyTV.com and social features surrounding tons of popular shows, so users can read about their favorites, chat with other fans and post comments directly to Facebook or Twitter, all inside the app while they watch.
The BuddyTV Guide app is available for free for iOS devices in the iTunes store, for Android and GoogleTV devices in the Google Play marketplace, and provides listings for OTA, cable and satellite TV providers in the US. These include Comcast, Cablevision, Time Warner, Verizon, DirecTV, Dish and many more.
About BuddyTV:
BuddyTV's goal is to help TV fans discover their must-see TV. As the #1 independent TV site on the web, this means providing a venue for over 5 million unique visitors per month to connect with fellow fans, read the latest news and enjoy entertaining features about their favorite shows. Now, with over 400,000+ downloads on iOS and an almost perfect average user rating of 4.7 stars, the BuddyTV Guide app is enhancing and expanding the ways that consumers enjoy their TV time.
For press inquiries or to arrange an interview with BuddyTV CEO Andy Liu, please contact Meghan Carlson at BuddyTV: meghan@buddytv.com or 206.859.4180 x203. For more information about BuddyTV and the BuddyTV Guide App, visit http://www.BuddyTV.com, and follow @BuddyTV and @BuddyTVGuide on Twitter.