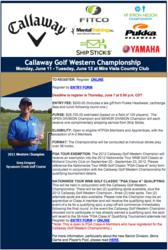 (PRWEB) May 24, 2012
Callaway Golf Western Championship
Monday, June 11 - Tuesday, June 12 at Mira Vista Country Club
Deadline to register is Thursday, June 7 at 5:00 p.m.
ENTRY FEE: $200.00 (Includes a tee gift from Pukka Headwear, cart/range fees and lunch following round one.)
PURSE: $26,700.00 estimated (based on a field of 105 players). The OPEN DIVISION Champion and SENIOR DIVISION Champion will each receive one complimentary shipping service from Ship Sticks.
ELIGIBILITY: Open to eligible NTPGA Members and Apprentices, with the exception of A-3 Members.
FORMAT: The Championship will be conducted at individual stroke play over 36-holes.
PGA TOUR EXEMPTION: The 2012 Callaway Golf Western Champion will receive an exemption into the 2012 Nationwide Tour WNB Golf Classic at Midland Country Club on September 20 - September 23, 2012. Please reference the Nationwide Tour WNB Golf Classic "PGA Class-A" entry form conducted in conjunction with the Callaway Golf Western Championship for qualifying tournament details.
NATIONWIDE TOUR WNB GOLF CLASSIC "PGA Class A" QUALIFYING:
This will be held in conjunction with the Callaway Golf Western Championship. There will be two (2) qualifying spots available, plus the 2012 Callaway Golf Western Champion - three (3) total spots. Two (2) alternate spots are also available. Please note the Champion may be an apprentice or Class A member and will receive the qualifying spot. In the event of a tie for a qualifying spot, a play-off will commence immediately following the final round. In the event the Callaway Golf Western Champion chooses not to participate or has already earned a qualifying spot, the spot will revert to the 36-hole "PGA Class A" Qualifying Tournament alternate list. Register by ENTRY FORM or ONLINE.
*Note: This is open to PGA Class-A Members who have registered for the Callaway Golf Western Championship.)