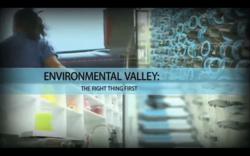 El Salvador's total exports of textiles and apparel to world markets grew 9.2% in 2011
Miami, FL (PRWEB) May 16, 2012
Discussions at 2012's American Apparel Producers' Network (AAPN) Annual Meeting highlighted the extensive capabilities and partnerships of eight major textile and apparel companies operating in The Republic of El Salvador. A robust and vertically integrated synthetic textiles manufacturing cluster has developed over the past several years here.
The eight companies joining forces to promote the cluster include: George C. Moore Company, Darlington Fabrics, Apparel Production Services (APS), CS Central America, Pettenati, TexOps, ProDept and Unifi. "From yarn producers, to narrow and wide fabric, to apparel manufacturers; all eight companies came together and collaborated in a joint effort to promote our cluster's capabilities and best practices," said Andrew Dreher, Senior Vice President, George C. Moore Company, a narrow elastic and rigid webbing manufacturer.
"George C. Moore and Darlington Fabrics have combined their efforts to expand the region's capability by locally producing and supplying apparel manufacturers with woven and knit narrow fabric, as well as warp knit stretch fabric for the intimate apparel, athletic compression, performance apparel, swimwear, orthopedic & medical, industrial and military markets," said Dana Barlow, CEO of The Moore Company.
Throughout the years, the members of the Salvadoran synthetic cluster have developed a very cooperative network that constantly shares best practices, customer information, trend data and suppliers. Issues and challenges are addressed as a group. "We do not consider each other competitors. We are aware that as a group we make the country and the DR CAFTA region more attractive for retailers and international brands to source in the region," said Jaime Campos, General Manager of George C. Moore and Darlington Fabrics El Salvador.
On January 2005, the World Trade Organization (WTO) eliminated quotas for sewn products imported into the United States. In anticipation, a core group of public and private sector leaders at the AAPN CAFTA Summit Series in El Salvador met and set a series of high level goals. These goals focused on adding greater value for customers, creating a service-driven culture, and expanding vertical integration in country.
To achieve these goals, it was necessary to upgrade and expand access to textiles and trim producers, increase flexibility, achieve substantially greater speed to market, become much more efficient, and focus on the long-term competitiveness of the industry. The industry's financial success in the Republic of El Salvador demonstrates that many of these goals were achieved.
"In this region, I think El Salvador is the only country with a complete synthetic cluster," noted I.T. Joo, President of CS Central America, a polyester and nylon yarn producer that supplies textile mills operating in the DR CAFTA market.
A video presentation at the annual meeting speaks to The Republic's success. With this video we wanted to present and share the story of the creation of what we like to call: El Salvador's Environmental Valley", said Juan Zighelboim, President of TexOps, a performance and active wear manufacturer.
"El Salvador's total exports of textiles and apparel to world markets grew 9.2% in 2011. Textile exports showed 20.5% growth while apparel exports were up 7.9%," said Steve Perry, Vice President of Sales of Darlington Fabrics during his participation in the Apparel Factory/Fabric Operations Panel. "And as for the DR-CAFTA region, in 2011 the region's exports to U.S. market reached the levels of 2007 (US$ 8,172 million in 2011 versus US$8,152 million in 2007). Why do we believe this happened? To summarize: the market's need for low inventory levels, speed to market capabilities, new investments & expansions, and a new interest in the region!" he added.
"Despite changes in local and national governments, our companies all share a focus on growing the region's potential. We are committed to the people and Republic of El Salvador for the long run" said Andy Dreher.
About the participants at the 2012 AAPN Annual Meeting:
A total of 98 retailers and companies from the textile and apparel supply chain participated at the event while more than 200 company owners and senior executives registered for the meeting and actively participated.
About AAPN:
AAPN was founded in 1981, and is a private sector, non-profit, members-only, apparel industry business network of over 600 company owners and senior executives from nearly 200 organizations across the supply chain. The group is organized by industry worldwide to produce apparel for the US market from North America, Mexico, Caribbean, Central America, South America, Europe, North Africa, South Asia, Southeast Asia, Asia and China. AAPN's headquarters are in Atlanta, Georgia, USA.