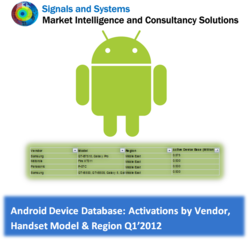 While Android growth is slowing down, the Google backed operating system still maintained triple figure Year-on-Year (YoY) growth of + 126 % in Q1'2012
New York, New York (PRWEB) May 16, 2012
While Android growth is slowing down, the Google backed operating system still maintained triple figure Year-on-Year (YoY) growth of + 126 % in Q1'2012. With nearly 85 million shipments in Q1'2012, Android Smartphones maintained market dominance within the Smartphone segment of the market, with a global market share of 59 % and an installed base of 331 Million legitimate Android device (handset) activations, up from 250 million in Q4'2011. The results were released as part of Signals and Systems Telecom's "Android Device Database: Activations by Vendor, Handset Model and Region Q1'2012".
The database covers over 46 device vendors including: Acer, Alcatel, Altek, Casio, Commtiva, Coolpad, Dell, Dopod, EPHONE, Fujitsu, GarminAsus, General Mobile, Gigabyte, Hesense, Hisense, HTC, Huawei, i-Mobile, INQ Mobile, Karbonn Mobiles, KT Tech, KTFT, K-Touch, Kyocera, Lenovo, LG, Micromax, Motorola, NEC, Olive, OPPO, Panasonic, Pantech & Curitel, Samsung, Sharp, SK telesys, Sony Ericsson, Spice Mobiles, Toshiba, Trident, Videocon Mobile and ZTE.
The database tracks Android activations by individual device model, vendor and region. The target audience for this report includes handset manufacturers, application developers and mobile network operators. All variants of particular device series are individually covered in the database. As an example, for the Samsung Galaxy S series, the GT-i7500, Galaxy, GT-i9000, Galaxy S, GT-i9100, Galaxy S II, Galaxy S II LTE and all other individual variations are covered individually.
More information on the database from Signals and Systems Telecom is available at:
http://www.snstelecom.com/android-device-database-activations-by-vendor-handset-model-and-region-q1-2012
About Signals and Systems Telecom
Signals and Systems Telecom is one of the most foremost market intelligence and consulting firms for the worldwide telecommunications industry, with a particular focus on wireless infrastructure and mobile devices. Developed by leading industry analysts our market intelligence and consultancy services provide unique insights to the global telecommunications industry with information ranging from niche details of mobile handset models to tracking to large network infrastructure contracts and cellular network operator metrics. Whether your focus is strategic decision making, service development, investment or marketing, our services will allow you to make optimal decisions with self-assurance.
Contact Signals and Systems Telecom at: info (at) snstelecom (dot) com