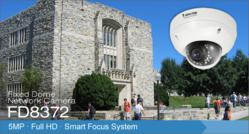 San Jose, CA (PRWEB) May 17, 2012
VIVOTEK is introducing its first 5-Megapixel solutions, starting with the 5-Megapixel fixed dome FD8372.
Equipped with a 5-Megapixel sensor enabling viewing resolution of 1080p up to 30 fps, VIVOTEK FD8372 supports the industry-standard H.264/MPEG-4/MJPEG compression technology and employs a great number of advanced features allowing the user to fully utilize the high definition video. The ePTZ function, for instance, enables users to zoom in and focus on a region of interest (ROI) in the camera view with only a few clicks of a mouse.
The FD8372 is equipped with Smart Focus System, particularly Remote Focus, for easy, hassle-free installation and maintenance. Lenses with built-in stepping motors are implemented for installers to remotely control the focal length and precisely adjust the camera focus.
As with other true day/night models, the FD8372 comes with a removable IR-cut filter and IR illuminators (20 meters) to provide great clarity and contrast 24 hours a day.
The metal vandal-proof housing also effectively provides robust protection from vandalism and the IP66 rating provides a robust solution suitable for demanding outdoor environments.
"We are very excited about the launch of 5-Megapixel solutions at VIVOTEK and confident that many industry professionals will benefit from them," said Harry Hu, President of VIVOTEK USA. "Particularly for vertical markets such as stadium, parks, industrial warehouses and so on."
Other upcoming 5-Megapixel models to be released in 2012 include IP8172 and IP8372.
The first 5-Megaxpiel fixed dome from VIVOTEK is available as of Q2 this year. Please visit Product on http://www.vivotek.com for more information.
About VIVOTEK
VIVOTEK INC., established in 2000, has quickly taken its place as a leading brand in the security industry. Known for delivering world-class IP surveillance solutions, VIVOTEK specializes in audiovisual compression and integration. With the innovative R&D teams adopting sophisticated codec technologies, VIVOTEK provides a wide range of products, including network cameras, video servers, video receivers and central management systems. VIVOTEK was listed on the Taiwan Stock Exchange in 2006. In 2008, a branch office was set up in California, USA. VIVOTEK is currently working with more than 160 authorized distributors in over 80 countries. For more information, please visit http://www.vivotek.com.