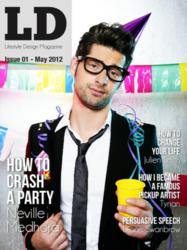 ...being able to create a highly visually appealing magazine full of great articles, video and interactive web elements ... means we can take what was traditionally a very boring medium and make it someone fun to consume
Melbourne, Australia (PRWEB) May 18, 2012
There is so much noise out there when it comes to effective and efficient LifeStyle Design techniques, advice and case studies. The "hot off the presses" LD Magazine has been designed to reduce all the noise, curate the best of the best from across the globe and present it in a highly engaging digital magazine on the iPad's NewsStand platform.
"We're so excited about what Apple's Newstand platform give us" says editor Pete Williams "...being able to create a highly visually appealing magazine full of great articles, video and interactive web elements ... means we can take what was traditionally a very boring medium and make it someone fun to consume"
Beyond the traditional articles, from leading authors such as Julien Smith, Tynan and Neville Medhora, LD Magazine includes video content and interactive links to the web all within the pages of the monthly magazine.
For more information on LD Mag, visit http://www.LDmagazine.com
For interviews with the editor, contact Pete Williams on +613-9536-2816