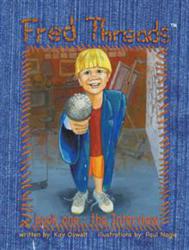 Emmaus, PA (PRWEB) May 18, 2012
Kay Oswalt's new children's book "Fred Threads: Book One: The Interview" (published by Inspiring Voices) is the first of a series of 15 books of inspirational conversations between a young boy and his mom. The book encourages children to use their imaginations, to ask questions and to think creatively.
An excerpt from "Fred Threads":
"Fred, I listen and I ask questions just like you are doing right now.
So, Mom, asking questions is important?
I believe so, yes, Fred."
"I think parents are sometimes at a loss as to what to say to their kids," Oswalt says. She knows, from her own family and from experience with the families of friends, that she is not alone in this experience. Oswalt's mission is about encouraging children to use their imaginations and to ask their questions. And she hopes, for parents, to once again take the time to marvel at the growing-up process.
Oswalt's goal in writing "Fred Threads," she says, was to "…offer the idea, to children and parents, that asking questions can lead to conversations that encourage thinking and thoughtful discussions through conscious kindness."
About the Author
Kay Oswalt grew up in Emmaus, Penn., where she resides again today after moving away in 1976. She lived for a short time in California and then for almost 35 years in Minnesota, where she raised her family.
Oswalt is a mother who came into some self-insightful mothering epiphanies late in her mothering career. In a gentle way, she wanted to share her stories. She believes she can do this through Fred and his mom. To learn more, visit http://www.fredthreads.com.
Inspiring Voices, a service of Guideposts, is dedicated to helping authors share their words of hope, faith and inspiration with the world. A strategic publishing partnership with indie book publishing leader, Author Solutions, Inc.; Inspiring Voices allows authors to publish inspirational and spiritual books without respect to their specific doctrine, denomination or political point-of-view. Authors published through Inspiring Voices benefit from access to exclusive Guideposts marketing services, with select titles appearing in a special collection at Guideposts.org. For more information on publishing with Inspiring Voices, log on to inspiringvoices.com or call 866-697-5313.
###