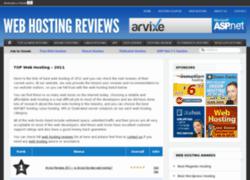 Arvixe web solution is designed for personal and small business which has more than 10 years of business web hosting experience.
Los Angeles, CA (PRWEB) May 26, 2012
The top web hosting reviews and rating site Webhost4lifereview.com (WH4LR) awards Arvixe web solutions as the best web hosting in 2012 for individuals and small businesses rated from their web hosting performance, feature values, server reliability, customer support, eco-friendship, and price. Visit http://www.Webhost4lifereview.com/top-10-web-hosting and check out the top 10 web hosting companies of 2012.
Arvixe web solution is designed for personal and small business which has more than 10 years of business web hosting experience. Arvixe launched business since 2003 and they've become a world famous web hosting brand after 2009, now you can find their brand is always listed on top of major web hosting reviews sites, including CNET, BBB, FindMyHosts.com, etc.
1. Best Values
Arvixe offers many different web hosting types at affordable prices, including shared hosting, reseller hosting, business hosting, vps and dedicated server. Arvixe cheapest shared hosting starts from $4.00 per month and monthly payment is accepted. Arvixe shared hosting includes unlimited disk space, unlimited monthly bandwidth, 1 free domain name, free SSL, $100 Google marketing credits, etc. They support ASP.NET 4.0 3.5 SP1 3.0 2.0, MsSQL 2008, MySQL 5.x, PHP 5.x, Ruby on Rails, FFmpeg, Python, Perl, Java Tomcat, and provide a mart one-click script auto installation in their cPanel control panel, including wordpress, mambo, joomla, drupal, magento, etc.
2. Reliability
Arvixe provides great server speed and performance due to their network structures and the way they control their servers. Arvixe utilizes two world-class data centers in the Dallas, Houston area. Combined, they occupy over 4000 square feet of space, comprised of over 1000 Servers and half a Petabyte of storage.
3. Quality Customer Support
At Arvixe, the customers come first. They recognize that users rely on them and they provide clients with an affordable, reliable hosting solution, and take that responsibility very seriously. Arvixe support team is available around the clock, via phone, email and online live chat when customers need them! The average response time of Arvixe customer support is under 1 minute via live chat and telephone, the average response time of their ticket support is within half an hour. Arvixe web solution is very proactive, versus being very smart like most other web hosting companies.
4. Eco-Friendly Hosting
Besides, Arvixe is also an eco-friendly hosting company. Arvixe is committed to going green extends beyond their own company and the customers they serve. Arvixe has reduced its carbon footprint by purchasing enough Renewable Energy Certificates (RECs), to offset their energy use by 300%. It means that the servers, offices and data centers supporting client's websites are completely powered by their wind energy.
About Webhost4lifereview.com (WH4LR):
Webhost4lifereview.com (WH4LR) is a leading web hosting reviews and rating site, designed to help online users find the best web hosting deal at an acceptable price, based on their true web hosting experience and the real user comments.
Visit Webhost4lifereview.com to check more information about web hosting reviews, best wordpress hosting, best ASP.NET hosting, best vps hosting, best dedicated server, and latest web hosting discount.