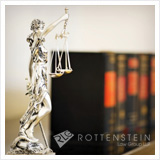 New York, NY (PRWEB) May 21, 2012
The Rottenstein Law Group, which represents clients with claims stemming from the recall of defective hip replacement devices manufactured and sold by DePuy Orthopaedics, notes with keen interest a formal response submitted by DePuy to a recent British Medical Journal article criticizing the manufacturer of the embattled ASR hip replacement devices.
A study published in the BMJ in February argued that "hundreds of thousands of patients around the world may have been exposed to toxic substances after being implanted with poorly regulated and potentially dangerous hip devices." DePuy spokespersons responded informally in mid-April—something RLG notes is unusual for a company involved in pending litigation. Typically, arguments will be saved for the courtroom.
Now DePuy has formally responded in the pages of the BMJ: "All hip implants, irrespective of the materials used, are known to wear," DePuy's representatives contend. "[The study published in February] suggests that the current generation of [metal on metal (MoM)] hip implants was introduced despite known risks and without a clear clinical need. This is not true. Early failures in the first generation of MoM implants were reported, but subsequent reviews showed that many of them were successful long term, with much lower wear than polyethylene systems."
The first trials of lawsuits brought by plaintiffs alleging harm caused by DePuy ASR hip replacement devices are expected to begin this year. Rochelle Rottenstein, principal of the Rottenstein Law Group, says, "We implore anyone with a friend or relative who has received a hip replacement device since 2003 to reach out to that person and recommend that he or she consult a physician immediately and then speak to a qualified personal injury lawyer."
The Rottenstein Law Group maintains a DePuy Lawsuit Settlement Information Center at http://www.depuysettlement.com. The site has features that allow for easy sharing, including links for automatic posting on Facebook and Twitter, specifically to enable visitors to spread the word about the DePuy ASR recall.
About THE ROTTENSTEIN LAW GROUP
The Rottenstein Law Group is a New York-based law firm that represents clients in mass
tort actions. The firm was founded by Rochelle Rottenstein, who has more than two
decades of experience as a lawyer, to represent clients hurt by defective medical devices.
http://www.rotlaw.com
Contact:
The Rottenstein Law Group, LLP
Rochelle Rottenstein, Esq.
1259 Veeder Drive
Hewlett NY 11557
(212) 933-9500 (office phone)
(212) 933-9980 (facsimile)
rochelle (at) rotlaw (dot) com
http://www.rotlaw.com