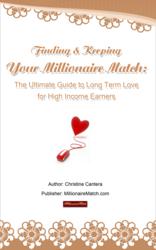 In this book, you are not going to find magazine-style tips. There will be no top-ten lists. Instead, the book teaches wealthy singles how to successfully find the partner they've been searching for, online or off."
Toronto, ON (PRWEB) May 19, 2012
If you're worried your Kindle can't keep you warm at night, think again. Your Kindle eReader might just help you find love thanks to MillionaireMatch.com.
The award-winning online dating website for millionaire singles is pleased to announce it has recently published an electronic book through the Amazon Kindle program to teach its members and other singles how to attract and maintain successful relationships. The e-book, Finding and Keeping Your Millionaire Match: The Ultimate Guide to Long Term Love for High Income Earners, is designed specifically for wealthy singles who are looking for love in all the wrong places, or having difficulty finding dates with like-minded affluent singles.
Written by author Christine Cantera and published by MillionaireMatch.com, Finding and Keeping Your Millionaire Match, teaches singles how to be relationship ready, where find the perfect partner online and offline, and how to keep your relationship going strong. It's a comprehensive yet entertaining guide that's written for the dating realist, not the hopeless romantic, and includes stories from Cantera's own experiences as an affluent single searching for love.
Download the e-book from Amazon's Kindle Store for $5.99 or free for Amazon Prime members.
About MillionaireMatch.com
Established in 2000, MillionaireMatch.com was first to serve the millionaire singles niche exclusively though an online dating community. Its membership base includes more than 1.7 million members looking for love, many of them with verified millionaire status through confidential and voluntary income disclosure. The website is highly ranked among the top online dating sites internationally and has been featured as best in web on Forbes.com. Millionaire singles can create a free profile on MillionaireMatch.com though many choose to purchase paid monthly membership to enjoy advanced features designed to find suitable partners quickly.