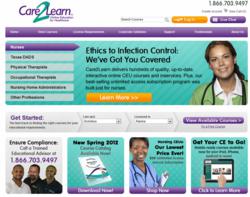 This is a huge benefit for our facilities in Delaware because it makes it even easier to assign and track required CE completions." Matt Casey, PhD, VP of Content and Accreditations for Care2Learn
Tampa, FL (PRWEB) May 18, 2012
Care2Learn.com, the leader in online continuing education and healthcare compliance training for the post-acute care industry, recently added to its extensive list of premier client services. The eLearning company is now approved to report CE completions for Delaware certified nursing assistants (CNAs). The distinction is an important one for Delaware facilities, who previously were required to follow a complex approval and reporting process.
"This is a huge benefit for our facilities in Delaware because it makes it even easier to assign and track required CE completions," says Matt Casey, PhD, VP of Content and Accreditations for Care2Learn. "Earlier this year the Delaware CNA Registry announced all CNAs need 24 hours of approved CE biennially and set up a very complex system of facility requirements for approvals and reporting. Each facility was required to set up 'instances'—internally created classes—and report completions to the board for each CNA. Now, Care2Learn takes care of everything."
As of January 1, 2012 the Division of Long Term Care Residents Protection began tracking CE units through a new electronic system: the Delaware CNA Continuing Education Website. Care2Learn has successfully negotiated a different process for Delaware facilities, whereby CNAs simply have to select 'DE – Certified Nurse Aide' from the 'My Licenses' list, pass the approved course material, and Care2Learn reports all CE completions to the Delaware CNA Registry twice monthly.
Among the first to offer a complete solution for online compliance training and healthcare CE to the post-acute care industry, Care2Learn provides a simple, flexible and affordable way to train healthcare staff, from front-line caregivers to management, with interactive and engaging courses available 24/7 from any computer with Internet access. In addition, Care2Learn is releasing online courses that are compatible with nearly all mobile devices, including the iPhone®, iPad®, Android™ platform and more.
About Care2Learn
Care2Learn sets the standard for excellence in online continuing education and training for the post-acute care industry and holds more than 70 state and national accreditations. Through our award-winning healthcare Learning Management System (LMS) we offer individual courses as well as large-scale corporate training solutions for healthcare organizations featuring customizable and easily accessible online universities with a full range of tracking and reporting features. With an online library exceeding 500 courses authored by more than 300 subject matter experts, Care2Learn serves more than 300,000 healthcare professionals in all 50 states. Founded in 2000 and acquired in 2007 by eLearning provider VectorLearning, Care2Learn is headquartered in Tampa, Florida and is the recipient of numerous community honors and industry rewards. For further information, visit http://www.Care2Learn.com or http://www.Care2LearnEnterprise.com.