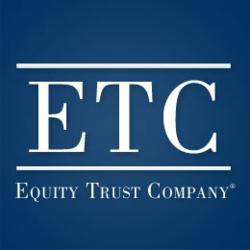 Cleveland, OH (PRWEB) May 21, 2012
For the second year, Equity Trust Company is seeking investors with high-yielding or unique investments for the Self-Directed Investor of the Year contest. One savvy investor will win a free IRA account for life.
By answering three simple questions online, entrants are in the running for the grand prize, which is an IRA account with no annual fees at Equity Trust. Several finalists will receive free admission and an invitation to speak on one of the panels at our Equity University Networking Conference, September 28-30 in Orlando. They will join other successful self-directed investors who will reveal how they're creating lasting wealth, in today's market, using funds from their retirement accounts.
A Self-Directed IRA enables an individual to invest his or her retirement savings in the stock market as well as alternative investments like real estate, renewable energy, precious metals and much more. Last year's Investor of the Year contestants displayed the wide range of possibilities a self-directed IRA provides for building tax-free wealth. Entries in 2011 showcased investments including an entire town, land for a community garden, tax liens, and several other entities, many earning double-digit returns.
Investors can enter the contest online by describing activity in their self-directed IRA that has caused their portfolios to flourish. An Equity Trust representative will call some entrants requesting more details about their deals.
The contest runs until December 21, 2012, but entrants who want to be considered for free admission to the Networking Conference should enter by June 15. Visit http://www.trustetc.com/contest for details.
About Equity Trust Company
Equity Trust Company, with its corporate headquarters in Cleveland, Ohio and operations in Waco, Texas and Sioux Falls, South Dakota, is at the forefront of the self-directed retirement plan industry. The company specializes in the custody of alternative assets in self-directed IRAs, Coverdell Education Accounts, Health Savings Accounts and qualified business retirement plans. Along with its affiliates, Equity Trust provides services to more than 130,000 individuals and businesses nationwide with approximately $10 billion in assets under custody. Since 1974, the company and its affiliates have helped investors make tax-free profits through education, innovation, and a commitment to understanding individual needs. Visit TrustETC.com for more information.