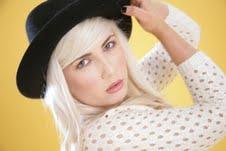 I couldn't believe it when I got the phone call
London, UK (PRWEB UK) 19 May 2012
As another model earns the title of 'Model Of The Month', La Mode reveal a worthy winner with vital statistics.
And the winner is........La Mode London announce today their latest model of the moment is Kirbee Louise Aldred. The 5 foot two, blue eyed blonde model was absolutely delighted to have been chosen by the commercial photography company.
'I am so privileged to have been chosen as 'Model of the Month, I couldn't believe it when I got the phone call.'
Helen explains that Kirbee is not only beautiful, has excellent model application, but her personality shone through like a beacon, setting her apart from the rest. According to the director of the company, she was chosen because she worked really well with the stylists and took excellent direction from the photographers. The team were very impressed with her and thought she thoroughly deserved the title.
La Mode specialise in creating artistic portfolio shoots which really bring out the best in each model, tailoring their famous shoot days for the type of look each individual model has. Notes are made and discussions take place after each photo shoot day between the photographers and makeup artists, and a model is chosen specifically because of certain traits, qualities which are not evident in every model.
'The 'Model of the Month' is invited back into the studio a free shoot day,' continues Helen. 'They work with the style team, the hair and make-up artists and also the photographers. They are given a brand-new portfolio and we also do a press release to give them exposure.'
La Mode is very confident that not only Kirbee's looks will make are successful in living the modelling dream, but also her striking features and her bubbly personality make are extremely easy to work with.
'My two experiences at La Mode have been amazing,' laughs Kirbee. 'All the staff are friendly, sorted my every need, give good direction on how the day would work and made me feel very welcome. My hair and makeup was perfection and the photographers were very easy to get on with.' Kirbee's second trip back to La Mode saw her receiving VIP treatment and an amazing photo shoot, which will soon be revealed to the world as her modelling portfolio and accompanying website will go live in the next few days.
'As soon as I went back I received the VIP treatment all day and felt very special. Being 'Model of the Month' means the world to me. There's nothing more I enjoy getting ready and getting in front of the camera.'
Helen explains how it is a real confidence booster for each model who receives the accolade, which will only enhance their performance in future modelling jobs . Kirby agrees, 'My confidence level goes through the roof and my whole time spent there was smiling.'
Visit http://www.lamodelondon.com to see more of Kirbee and find out who will be La Mode London's next 'Model of the Month.'