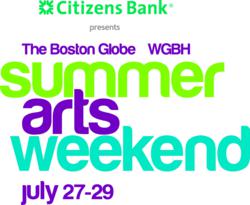 "From large to small, Boston's arts organizations play a significant role in defining the identity of the City of Boston and drawing visitors to the city," said Thomas M. Menino, mayor of Boston.
Boston, MA (PRWEB) May 18, 2012
The Boston Globe and WGBH have teamed up to create the inaugural Summer Arts Weekend in Boston. Presented by Citizens Bank, this weekend event will celebrate the arts with a free festival on Copley Square in the Back Bay on July 27-29, special offers around the city, and a series of ticketed unique performances.
With music ranging from classical and jazz to bluegrass and soul, dramatic theater and street performers, Summer Arts Weekend will showcase Boston's thriving arts community by bringing local and national artists to the city for a variety of free performances. The three-day festival will be perfect for the entire family.
"From large to small, Boston's arts organizations play a significant role in defining the identity of the City of Boston and drawing visitors to the city," said Thomas M. Menino, mayor of Boston. "We applaud The Boston Globe, WGBH and Citizens Bank for coming together to create Summer Arts Weekend, showcasing the arts to residents and visitors alike."
Weekend Highlights
On Friday, July 27, the weekend kicks off with a look at the legacy of American music. Sierra Hull & Highway 111, led by the recent graduate of Berklee College of Music, will take to the Copley Square stage with Hull's new brand of bluegrass. At the other end of the age spectrum, legendary Del McCoury will bring more than 50 years of American roots music to the stage. With the iconic Preservation Hall Jazz Band as well as the Soul Queen of New Orleans, Irma Thomas also on the Copley Square Stage, the rich heritage of this country's homegrown music will be on grand display.
Saturday will celebrate diversity, as the Copley Square Stage comes alive with rock and roll, Latin, classical, folk and special performances for the family. Confirmed performances to date include Poncho Sanchez, who will bring a fusion of Latin, jazz and blues to the stage and the new New Orleans sound of Soul Rebels who will rock the stage late into the evening.
Finally, Sunday will be dedicated to classical music performances with some unique aspects. A baroque brunch will be held at the Fairmont Copley Plaza. The emerging piano duo Anderson & Roe will show attendees how classical can be funky and fun and classically-trained musicians Igudesman & Joo, fresh off a performance at Carnegie Hall, will take it a step further, combining classical music and comedy for what will be an unforgettable performance.
More performances will be announced in coming weeks.
"Here in Massachusetts, arts and cultural organizations help build vibrant communities and contribute significantly to our economy," said Governor Deval Patrick. "I encourage all lovers of the arts, music and theater to attend the inaugural Summer Arts Weekend in Boston celebration."
After Hours Festival Club
In addition to the free events in Copley Square, a series of performances will take place in the After Hours Festival Club which will come alive after performances on the Copley Square stage end. These ticketed events will be held at the Fairmont Copley Plaza, bringing together festival artists for short-form intimate performances that will allow for unique collaborations between artists. More information about the After-Hours Festival Club will be available soon.
Weekend Guide and Special Offers
Local arts organizations will offer discounts and unique programming for the public, all of them featured in a special guide. All arts and entertainment organizations are invited to list their events in the guide and on the Summer Arts Weekend website free of charge. The guide will be distributed in The Boston Sunday Globe and the Worcester Telegram & Gazette and online at WGBH.org. To submit a listing, please visit http://www.BostonSummerArts.com. All offers must be submitted by June 8 for inclusion in the printed guide and by July 15 to be included on the website.
Summer Arts Weekend is presented by Citizens Bank and sponsored by Volkswagen and the Greater Boston Convention and Visitors Bureau, in collaboration with ArtsBoston. Sponsorship opportunities are still available and can be tailored for both small and large arts organizations. For more information about becoming a sponsor of Summer Arts Weekend, contact Allison McCann at amccann(at)globe(dot)com
For more information, visit http://www.bostonsummerarts.com.
About The Boston Globe
The Boston Globe and Boston.com are wholly owned by The New York Times Company, a leading global, multimedia news and information company with 2011 revenues of $2.3 billion, which includes The New York Times, the International Herald Tribune, The Boston Globe, NYTimes.com, BostonGlobe.com, Boston.com, About.com and related properties. The Company's core purpose is to enhance society by creating, collecting and distributing high-quality news, information and entertainment.
About WGBH
WGBH Boston is America's preeminent public broadcaster and the largest producer of PBS content for TV and the Web, including Masterpiece, Antiques Roadshow, Frontline, Nova, American Experience, Arthur, Curious George, and more than a dozen other prime-time, lifestyle, and children's series. WGBH's television channels include WGBH 2, WGBH 44, and the digital channels World and Create. WGBH TV productions focusing on the region's diverse community include Greater Boston, Basic Black, and High School Quiz Show. WGBH Radio serves listeners across New England with 89.7 WGBH, Boston Public Radio; Classical New England; and WCAI, the Cape and Islands NPR® Station. WGBH also is a major source of programs for public radio (including The World), a leader in educational multimedia (including PBS LearningMedia, a free online service providing the nation's educators with curriculum-based digital content to meet 21st-century learners' needs), and a pioneer in technologies and services that make media accessible to the 36 million Americans who are deaf, hard of hearing, blind, or visually impaired. WGBH has been recognized with hundreds of honors: Emmys, Peabodys, duPont-Columbia Awards…even two Oscars. Find more information at http://www.wgbh.org.
About Citizens Bank
Citizens Bank is a division of RBS Citizens, N.A., operating its seven-state branch network in Connecticut, Delaware, Massachusetts, New Hampshire, New York, Rhode Island and Vermont. It has 258 branches and 765 ATMs in Massachusetts.
RBS Citizens, N.A., is a subsidiary of Citizens Financial Group, Inc., a $130 billion commercial bank holding company. It is headquartered in Providence, R.I., and through its subsidiaries has more than 1,500 branches, approximately 3,900 ATMs and approximately 19,700 colleagues. Its two bank subsidiaries are RBS Citizens, N.A. and Citizens Bank of Pennsylvania. They operate a 12-state branch network under the Citizens Bank brand in Connecticut, Delaware, Massachusetts, New Hampshire, New Jersey, New York, Pennsylvania, Rhode Island and Vermont, and the Charter One brand in Illinois, Michigan and Ohio. CFG has non-branch retail and commercial offices in more than 30 states. CFG is owned by RBS (the Royal Bank of Scotland Group plc). CFG's website is citizensbank.com.