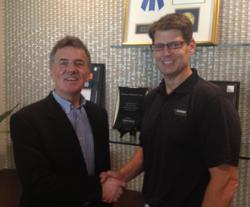 Adaptive Audio provides innovative and unique technology our Continuous Improvement Practice will leverage to improve solution performance and, over time, take personalized self-service to an entirely new level
Reston, VA (PRWEB) May 21, 2012
Tens of millions of consumers will soon experience a giant leap forward in customer self-service. Contact Solutions, a leading provider of cloud-based customer self-service solutions, today announced that it has acquired Adaptive Audio, a patented software technology that automatically analyzes caller behavior and creates a personalized self-service experience.
Interactive voice response (IVR) systems today interact with callers at a one-size-fits-all pace of communication, forcing the timing of callers' responses. Adaptive Audio software allows callers for the first time to experience real customer service by enabling the IVR system to adapt to the behavior of the individual. This adaptive personalization creates a superior customer experience and reduces call center operating costs by increasing utilization of customer self-service.
"Adaptive Audio's patented technology dovetails perfectly into our focus on customer experience and continuous improvement," said Paul Logan, CEO of Contact Solutions. "We have an entire team of professionals dedicated to analyzing hundreds of deployed solutions for opportunities to increase performance. We use personalization technologies today to improve customer experience and to increase usage of self-service. Adaptive Audio provides innovative and unique technology our Continuous Improvement Practice will leverage to improve solution performance and, over time, take personalized self-service to an entirely new level."
In addition, Adaptive Audio creator Daniel O'Sullivan has joined Reston-based Contact Solutions as Principal Technologist. He will lead the company's efforts to create more personalized customer service experiences across multiple channels and touchpoints.
"I am delighted to be joining a company so dedicated to continuous improvement of the customer experience," said Daniel O'Sullivan. "This company has entire teams of people whose responsibilities and compensation are tied to achieving better customer experience for all of their clients. As one of the largest providers of hosted self-service solutions in the country, Contact Solutions has the resources, expertise, and market presence to deliver a better self-service experience to tens of millions of consumers."
About Contact Solutions
Contact Solutions provides customer self-service solutions for large commercial and government enterprises, using patented processes and technologies to continuously improve the customer experience and transform call center operations while reducing expenses. Guaranteed.
Our proven Continuous Improvement methodology has positively impacted customer experience for every client since its inception, delivering an average increase of 27.4% and resulting in higher customer satisfaction at a lower cost. Recognized with the Frost & Sullivan Product Differentiation Award, this unique model quantifies the customer experience, enabling our customers to continuously improve year-over-year performance and ROI. Contact Solutions is one of the top five largest hosted IVR providers in North America. For more information, visit http://www.contactsolutions.com.