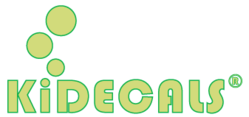 (PRWEB) May 21, 2012
KiDECALS.com is excited to have a booth at the Boulder Creek Festival this year where customers can browse a selection of the waterproof name labels, custom labels, and wall decals and that are normally available through their website. Customers will be excited to learn that they can order and pick up the labels from the KiDECALS booth the very same day, totally eliminating any wait time for personalized orders.
Labeling clothes and gear for camp and school is important so your valuable items don't go missing. KiDECALS offers dishwasher and washing machine proof personalized labels in a variety of fun designs for the whole family.
In addition, thanks to KiDECALS.com, parents can easily customize and decorate their child's room with custom, removable wall decals for kids and murals made by owner & artist, and Boulder resident, Hilary Chandler.
Parents that are interested in KiDECALS products can visit their website, KiDECALS.com, or plan a visit to the Boulder Creek Festival, booth #418, in Boulder Colorado next weekend to view the products in person. The festival runs Saturday, May 26 through Monday, May 28.
About KiDECALS.com
KiDECALS is a labor of love, started by mother of two Hilary Chandler shortly after the birth of her first son. What originally started out as a dream to easily decorate her child's room, soon morphed into a variety of custom wall decals and murals with a hand-painted appearance. After her children were in school she also developed waterproof name labels & stickers that could be used to identify everything from notebooks and water bottles, to clothing and lunch boxes in hopes of eliminating lost items.
Visit https://kidecals.com/ for additional information and to see all the KiDECALS products that are currently available.