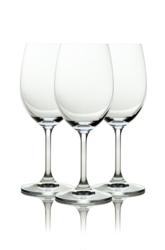 Our goal is to offer a wide range of high quality decorated stemware and provide fast and efficient service to our clients.
Richmond, CA (PRWEB) May 23, 2012
Monvera Glass Décor, a leading provider of screen printed wine bottles, is pleased to announce a new relationship with California Crystal to provide high quality, screen printed stemware for wineries and special events. The two companies will be integrating their processes together to make it easy for customers to order excellent quality decorated stemware.
"In addition to printing on wine bottles, our customers need us to provide them with decorated stemware for their tasting room and events." says Caitriona Anderson, Monvera's VP of Sales & Marketing. "As we head into the busy summer season, all wineries and event planers are making sure that they have a reliable source of quality stemware that can be decorated and is also affordable. The most popular look that customers' want for their stemware is the 'etched look' - which is achieved by screen printing glasses with a satin frost ink. However, a wide range of different color inks are also available and we can print more than one color if needed. We can also help our customers decorate their tasting rooms and tables with etched wine bottles.
Jen Turner, General Manager of California Crystal agrees, "Our goal is to offer a wide range of high quality decorated stemware and provide fast and efficient service to our clients. I'm happy to be able to bring back the very popular Bohemia Crystal range of glass to all the customers that I have worked with over the years. We have already received our first shipment of glass from the Czech Republic and Crystalex offers us the security of a steady supply chain so we can meet all our customers' demands. I'm delighted that we have been able to partner with Monvera as our glass decorator of choice and we expect to see a very positive reaction in the marketplace to this new product offering."
About Monvera Glass Décor:
Monvera provides industry leading glass decoration services such as screen printing, bottle etching and decals to the wine & spirits, beer, cosmetics, specialty food and beverage industries. Clients include Boisset Family Estates, Frank-Lin Distillers, Garrett Markenson Coiffure and Veronica Foods. To learn more about Monvera, visit http://www.monvera.com/.
About California Crystal :
California Crystal, a division of Crystalex CZ is the leading importer of fine stemware and decanters from the Czech Republic. They are the exclusive distributor for the Bohemia Crystal line of glass, featuring high quality lead free crystal with a sheer rim.