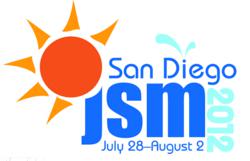 Alexandria, VA (PRWEB) May 22, 2012
Prominent statistics educators attending the Joint Statistical Meetings (JSM) in San Diego, California, will conduct workshops, sponsored by the American Statistical Association (ASA), for middle and high school math and science teachers.
A two-day program, titled Meeting within a Meeting (MWM) Statistics Workshop, was developed to help math and science teachers teach the increased statistics content in the new Common Core State Standards as well as the science curriculum. The workshop will be held Tuesday, July 31, and Wednesday, August 1, at the Hilton San Diego Bayfront.
"Education is a prime focus of the ASA," said Ron Wasserstein, ASA executive director, "and we are proud to have presented MWM to teachers across the country, helping to improve statistical education for students in grades K-12. This year our goal is to work with middle and high school math and science teachers so they can help their students obtain the best statistics education possible. It is fitting to hold this workshop in conjunction with JSM, the world's largest annual gathering of statisticians, where thousands from around the world meet to share advances in statistical knowledge and education."
The goal of the 2012 MWM program is to provide an opportunity for teachers to enhance their knowledge and teaching of data analysis and statistics within the mathematics and science curriculum and to learn hands-on activities they can use in their own classrooms to strengthen the teaching of statistics in their schools. It also provides participants with a network of statisticians and educators to assist in developing the quantitative literacy of their students. The course fee for the two-day program is $50, and information and a link to register are at http://www.amstat.org/education/mwm.
Advanced Placement Statistics Workshop
Experienced AP statistics teachers should register for the one-day Beyond AP Statistics (BAPS) workshop, which offers enrichment material beyond the basic advanced placement statistics syllabus. More information about the one-day workshop is available at http://www.amstat.org/education/baps. The course, scheduled for August first, is divided into four sessions led by noted statisticians. Presenters are: Allan Rossman, Cal Poly - Randomization Tests; Tom Short, John Carroll University, Logistic Regression; Robin Lock, St. Lawrence University - What Do We Do When Assumptions Are Not Met?; and James Cochran, Louisiana Tech University - Engaging Students in Statistics.
There is space available for both workshops, but space is limited, so interested teachers should register as soon as possible. For questions regarding the workshops, please contact Rebecca Nichols, director of education, at rebecca(at)amstat(dot)org, or call (703) 684-1221.
About the Joint Statistical Meetings
JSM, which has been held annually since 1974, is conducted jointly with the American Statistical Association (ASA), the International Biometric Society (ENAR and WNAR), the Institute of Mathematical Statistics (IMS), the Statistical Society of Canada (SSC), the International Chinese Statistical Association, and the International Indian Statistical Association. JSM activities include oral presentations, panel sessions, poster presentations, continuing education courses, exhibit hall (with state-of-the-art statistical products and opportunities), career placement service, society and section business meetings, committee meetings, social activities, and networking opportunities. JSM is open to members of all participating associations, as well as non-members and has special pricing for students, seniors, K-12 teachers; one-day registrations also are available. Complete JSM program information is available at http://www.amstat.org/meetings/jsm/2012/.
About the American Statistical Association
Headquartered in Alexandria, Virginia, the American Statistical Association is the world's largest community of statisticians and the second oldest continuously operating professional society in the United States. For more than 170 years, the ASA has supported excellence in the development, application, and dissemination of statistical science through meetings, publications, membership services, education, accreditation, and advocacy. Its members serve in industry, government, and academia in more than 90 countries, advancing research and promoting sound statistical practice to inform public policy and improve human welfare. For additional information about the American Statistical Association, please visit the ASA web site at http://www.amstat.org or call 703.684.1221.
#####
For more information:
Rosanne Desmone
703.302.1861 (direct)
703.946.3820 (mobile)
Rosanne (at) amstat (dot) org