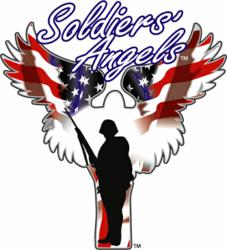 "Operation Outreach is an amazing way to touch the lives of our troops and their families.
Pasadena, CA (PRWEB) May 23, 2012
Soldiers' Angels has created an exciting new way for Americans to get directly involved in supporting veterans and struggling military families. Revamping their Operation Outreach project, the organization is offering military supporters the opportunity to contribute directly to an individual or group's specific need and to leave a note for that individual or group when they donate.
On the Operation Outreach page at SoldiersAngels.org, visitors can view a list of current needs and choose exactly which need to address with their gifts, or donate to the project in general. Currently the list is populated with wounded warriors on the waiting list to receive technology through Soldiers' Angels Project Valour-IT, as well as requests to help homeless veterans at VA Stand Downs through the gift of a Soldiers' Angels Vet Pack. As the list grows, individual heroes or families needing financial assistance, car repairs and other everyday support will also be added.
Mixed Martial Arts (MMA) star Tim Kennedy, himself a veteran, is excited about the possibilities of this revitalized Soldiers' Angels project. "Operation Outreach is an amazing way to touch the lives of our troops and their families," Kennedy says. "It's great both for people who want to make general donations for all troop families or for those who want to be more specific and help a particular unit or family. Thanks to Soldiers' Angels for once again leading the way to help those who serve, before, during and after deployments."
Soldiers' Angels Founder and CEO Patti Patton-Bader says that refocusing Operation Outreach to directly connect everyday Americans with military personnel and families who need a boost is a vital part of the organization's continuing mission. "We are still at war in Afghanistan, but the number of deployed troops is gradually diminishing while the number returning from war continues to increase. As these veterans and families adjust to a new life, Soldiers' Angels is there to offer support, assistance and love. Showing donors exactly how their money will be used gives them a personal stake in the important work of troop support."
Hands-on support for the troops lies at the center of Soldiers' Angels and this revamped project is consistent with that focus. To see Operation Outreach in action, visit http://www.soldiersangels.org/operation-outreach
Established in 2003, Soldiers' Angels is a volunteer-based, award-winning 501(c)(3) nonprofit providing aid and comfort to members of the United States Army, Marines, Navy, Air Force and Coast Guard, as well as veterans and military families. For more information, see http://www.soldiersangels.org. Tax ID# 20-0583415 CFC #25131