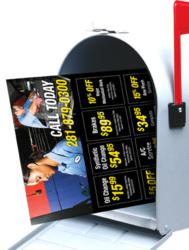 We literally doubled our customers using EveryDoorDirectMail.com
Richmond, VA (PRWEB) May 22, 2012
Taradel LLC, the leading provider of turnkey Every Door Direct Mail™ solutions, today introduced a national advertising campaign for EveryDoorDirectMail.com. The site provides business advertisers with one-stop-shopping for creative, print, and EDDM™ mailing services designed to work with the popular new USPS® program.
At the center of the campaign are 60-second radio commercials. The radio spots, a collaboration between Taradel's in-house marketing team and Robinson Radio (third party agency), focus on the success experienced by small business owners such as pizzerias, landscapers, and retailers.
The EveryDoorDirectMail.com radio spots will begin airing on May 21, 2012 and will be supported by a large-scale online marketing campaign via Google PPC and organic SEO efforts. The advertising campaign also includes promotional display ads in national publications across multiple industries.
Since launching in Spring 2012, EveryDoorDirectMail.com has dominated the direct mail service provider marketplace. The groundbreaking site is built around a proprietary "point and click" mapping technology that has changed the way business owners use the mail. No other e-commerce website enables advertisers to launch turnkey EDDM campaigns, online, in ten minutes or less.
"We literally doubled our customers using EveryDoorDirectMail.com," said Doris Leiva, a restaurant owner in Fisherville, VA. "I am extremely satisfied with the creative design, customer service, and ROI. But, the best part is the positive response we continue to receive from our customers," added Leiva.
With all-inclusive rates as low as twenty-seven cents per address, EveryDoorDirectMail.com is the easiest and most affordable way for businesses to mail out local, targeted offers.
To date, advertisers have mailed nearly three and a half million pieces via EveryDoorDirectMail.com. Backed by a national advertising campaign, and viral online support from the small business community, EveryDoorDirectMail.com is poised for rapid growth.