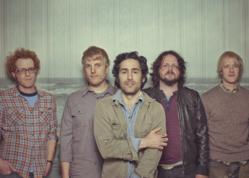 Cincinnati, OH (PRWEB) May 22, 2012
Portland Oregon's favorite sons Blitzen Trapper will stop in Cincinnati on July 24 as part of a summer tour that will take them from coast to coast, and back again.
General admission tickets, $15 ADV & $18 DOS (plus applicable fees), go on sale this Friday May 25 at 10 AM at http://www.ticketmaster.com, http://www.tafttheatre.org, the Taft Theatre Box Office and all Ticketmaster outlets including select Kroger stores. Charge by phone at 1.800.745.3000.
Over the course of their career they've earned rave reviews (from Rolling Stone, Pitchfork, and a whole lot more), played on television, appeared at festivals all around the world, done a staggering amount of touring, and sold a whole bunch of records. All of which is decidedly less interesting that what Blitzen Trapper singer/songwriter/guitarist Eric Earley has to say about the band's new record, American Goldwing…
"It's us letting our loves, our early influences hang out for all to see. Entering into the sounds we grew up with, the hard guitar rock and country picking of our younger years mixes with glimmers of our usual space-aging technology and pawn shop Casio aplomb. Heavy guitar riffs and blasting drum fills live side-by-side with plucking banjos and wailing harmonicas, and muddy slide guitars that make you want to shotgun a beer in the shower while listening to the Stones or Joe Walsh. It's also our first foray into direct, outside influence in the creation of a record. It's me letting go in a certain way. I let Tchad Blake come in to mix this album, and my good friend Gregg Williams co-produced all these tracks.
When I say "does a true heart change / or does it stay the same / think I'll go on back to from where I came" it's a question I'm asking myself. Does the long road I've been on warrant more songs, can I still fight those demons and come out with a handful of honesty? It's a summing-up of the longing and nostalgia of this record. But it's really just a starting point. In the end it's a record that jumps the rails, and travels, as I admit, "I left my home and all my money / to wrestling with the wind / on an old Goldwing gonna cross the ocean / 'cause I heard that it's a heck of a swim." That's me, wrestling with that silent angel at the door, reflecting all of that deep-seated American urge to travel. When I sing, in the title track, "I know / I know / I'll be staying if the wind don't blow," I'm seeking to invoke the unseen, the spirit that beckons you to saddle up that old 1980 Honda Goldwing, or your uncle's beat up Ford Bronco, or that Jeep you somehow, and only barely, keep running and leave this lonely town behind, "cause that wind's always blowing. I'm calling you to ride, to take those curves at speed and head for someplace better where love is true, whether that be into the depths of the galaxy or just to the next truck stop where the neon shines, and where the "company of strangers / and the close and the present dangers" are all that really matters."