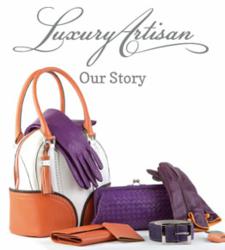 "The leather has a wonderful lustre, something I have always found that Bottega Veneta's products sadly lack..."
(PRWEB UK) 22 May 2012
The Luxury Artisan website has just undergone a redesign. The aim was to make the site much more dynamic and informative, as well as increasing its visual appeal.
Improved features include:-

Read the story behind Luxury Artisan
Read detailed brand profiles
New Blog
Top 5 Bestselling Luxury Gifts (For Him & Her)
Multi-currency pricing
Reduced delivery rates worldwide
Larger product images
There is also a dedicated PRESS section, where visitors can read what the media thinks about Luxury Artisan.
Read what our customers have to say about us in the Testimonials section:-
"I am particularly impressed with the purple clutch bag..."
"The quality of the iPad case is exceptional..."
"The Pineider purse in Orange is superb quality..."
So far, customer feedback has been very positive, saying that the site is nice and easy, with all the information popping up when you need it.
About Luxury Artisan:
Luxury Artisan is an internet retailer of luxurious Italian leather goods
All products are handmade in Italy from the finest quality leathers and materials
Since launch in 2011, Luxury Artisan has supplied quality leather goods to customers worldwide
More brands coming late 2012
Follow Luxury Artisan:
Facebook: LuxuryArtisan
Twitter: @LuxuryArtisan
Pinterest:LuxuryArtisan