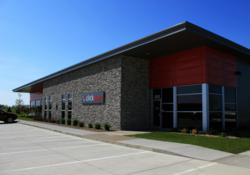 We strive to do things better every day; it's gratifying to see our continued efforts moving us up the list.
-Tim Guenther, CEO, Clickstop, Inc.
(PRWEB) May 23, 2012
Clickstop has been recognized by the Corridor Business Journal (CBJ) as the third fastest growing company in the Cedar Rapids/Iowa City Corridor.
Rankings are based on continued growth revenue over a three-year period. With rankings of fifth and fourth over the last three years, the company broke into the top three this year, with a revenue growth of 199% from 2009-2011. Clickstop is the only corridor business to place in the top five for four years in a row.
Company founder and CEO, Tim Guenther, his wife Nicole, and a group of several employees learned of the ranking during a breakfast and awards ceremony on May 22nd at the Coralville Marriott. Corridor Media Group President and CBJ publisher John Lohman emceed the awards ceremony.
Guenther, who began the start-up company in 2005, selling a variety of cargo control products including tie down straps, moving supplies, lifting slings and more on its USCargoControl.com website, credits persistence, passion and people for the success of Clickstop. The company now operates ten different webstore properties, serving very diverse markets.
"We have an incredibly talented group of people that make the most of everyday- from identifying and sourcing the right products, to driving traffic to our web properties with search engine optimization (SEO) and branding, to answering phones and getting orders processed and shipped out," said Guenther. "We strive to do things better every day; it's gratifying to see our continued efforts moving us up the list."
The Urbana-based company has also expanded logistically to accommodate its exponential growth. In March 2011, employees moved into a new $2.5 million dollar, 35,000-sq. foot facility just off I-380, and then also re-opened its original offices and warehouse in the BECCA industrial park nine months later.
The hiring of several new employees in the past 12 months has brought the total number to 47, with plans in the works to hire an additional 50 employees over the next three years.
About Clickstop, Inc.
Based in Urbana, IA, Clickstop is an end-to-end E-commerce business that fulfills orders from ten different online stores, including USCargoControl.com, SpaceSavers.com, EcoFoil.com and BellyBling.net. For more information, visit http://www.clickstop.com.