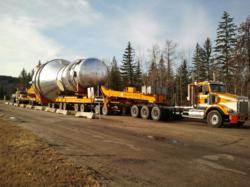 . . . 12 of these 23 cargo loads were some of the largest items ever to make their way along the North West corridor . . .
Everett, Washington (PRWEB) May 24, 2012
Nickel Bros, a specialized carrier and transport company with offices in Canada and the U.S., recently completed successful delivery of 23 large industrial components, custom built in Asia for the upgrading of a seven-effect evaporator plant at Weyerhaeuser's pulp and paper mill in Grand Prairie, Alberta, Canada.
Weyerhaeuser's commitment to good environmental stewardship was most recently recognized in 2010 with an EnviroVista Leader award presented by the Government of Alberta. Their new high-efficiency evaporator plant frees up enough steam to generate an additional 23 MWhr of electricity, which is sufficient to power over 16,000 average sized homes. The 23 MWhr of green electricity will be added back into the electrical power grid in Alberta, and equates to a reduction of 120,000 tons of CO2 – about the same as taking 12,000 trucks off the road.
Weyerhaeuser's manufacturer originally began discussions with Nickel Bros (http://www.nickelbrosindustrial.com) to manage just the barge and land transportation portion of this mega-load move. But as the two companies got to know each other, the manufacturer made the decision to entrust the entire journey, from factory to foundation, to the Nickel Bros team. After months of planning and preparation, the first containerized shipments of smaller components left Laem Chabang, Thailand in May 2011. And in mid December 2011, the final shipment of cargo arrived at the mill in Alberta.
While Nickel Bros has moved everything from residential buildings, to mega-size industrial equipment and even bridges over the past 56 years, 12 of these 23 cargo loads were some of the largest items ever to make their way along the North West corridor through Idaho, Montana and into Northern Alberta, Canada. With widths up to 23'9", heights up to 25'1", lengths up to 226', and gross weights up to 515,000 pounds, special routes and efforts were required for the series of long hauls.
Starting at the industrial fabricators in Thailand and China, the largest of the pieces were loaded onto ships and transported 7270 miles to the Port of Vancouver, Washington on the Columbia River. The equipment was offloaded, put onto river barges and brought up the Columbia 345 miles by tug to Wilma, Washington near Lewiston, Idaho. The final 1250 miles of the journey would be by road, using Nickel Bros' large truck and transporters. An innovative, custom built Schnabel device – the only one of its kind in North America – was designed and built for Nickel Bros to lower the oversize equipment to within inches of the ground, to help it clear overhead obstructions quickly and economically.
Nickel Bros' specialized hauling equipment met the barges and then traveled from Lewiston, Idaho, through Missoula, Montana, up to the border of Canada, through Calgary and Edmonton, with a final destination of the Weyerhaeuser plant at Grand Prairie in Alberta. Each run was 1250 miles and took up to 21 days, followed by a return run for the next load. The truck route was chosen for its relative freedom from overhead obstructions, including overpasses, tunnels, low hanging electrical wires and other restrictions.
Due to the size of the evaporator system equipment, two lanes were needed for travel. So the hauls were done during off-peak hours in the middle of the night when the impact on local traffic would be minimal. Traffic advisories went out in advance of the moves, an informational web site was made available, and highway departments kept drivers aware of closures and anticipated delays. Each travel segment required "turn off" areas every few miles, so the trucks hauling each oversize load could pull over for a period, to allow late night traffic to get by in either direction before continuing for the next segment.
Other mega-load transport companies in North America have proposed the use of this route for large industrial equipment bound for western Canada, but some have run into legal challenges and technical difficulties that have blocked their hauls. Nickel Bros worked cooperatively with the highway departments, community governments, environmentalists and concerned citizens of the towns along the route. The attention to detail helped Nickel Bros receive the needed permits for the moves, and successfully traverse the miles of challenging roadways on the way to their destination in Grand Prairie. So far, some of the other mega-load transport companies are still waiting to move their stalled loads, or have had to disassemble their cargo into smaller size loads at a significant cost.
Nickel Bros believes the proven combination of their specialized equipment, overall project management and the viability of this route, will give other customers the option of bringing large equipment to Canada and the northern U.S. economically and safely. As advanced technology helps companies like Weyerhaeuser to run their plants more efficiently and turn manufacturing energy into recycled electrical energy for homes and businesses, Nickel Bros will be ready to deliver the equipment. (746/800 words)
COMPANY INFORMATION
Nickel Bros is a structural transport company, with four offices serving Western Canada and the U.S. Pacific Northwest since 1956. Family owned and operated, Nickel Bros is recognized for its expertise in residential, commercial, industrial and mega-load cargo moving projects.
CONTACT DETAILS
For additional information, please contact Camie Ascher at 425-257-2067; or email camie(at)nickelbros(dot)com.