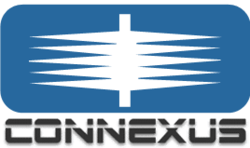 It is exciting to know that our (VaaS) Videoconferencing as a Service and Vidyo HD desktop videoconferencing, are being used to connect these great stories with students across America."
Dallas, TX (PRWEB) May 24, 2012
Connexus, the Dallas based provider of videoconferencing solutions was once again used to deliver a "Great Mind" to students and schools participating in ScholarCHIPS, a digital media broadcast experiment for delivering world class role models to both gifted and disengaged students in underserved school districts in inner cities, rural and small town school districts across America.
On May 4th 2012, ScholarCHIPs conducted a video broadcast and interview session with Dr. Cerf, hosted by ScholarCHIPs founder and host, Victoria Smith Downing. The hour long session, from Washington DC., was broadcast to middle school and high school students in Texas, Oklahoma, and California.
ScholarCHIPS, using Connexus Vidyo and videoconferencing services, is a "broadcast" program that delivers hosted interviews of world leaders in science, innovation, and the arts from universities and institutions across the country such as Yale, Harvard, Stanford, UCLA, USC, UCSF, The Smithsonian, National Geographic, Jet Propulsion Labs and NASA. ScholarCHIPS has its roots and origin in the Kilby International Awards. These awards, named for Jack Kilby, the engineer that created the monolithic integrated circuit, for which he won the Nobel Prize for Physics in 2000, helped launch ScholarCHIPS.
ScholarCHIPS is hosted by Kilby International Awards Chairperson, Victoria Smith Downing, and has been lauded by School Superintendents, Principals, Teachers, and students who have participated. "Our digital media broadcast experiment in delivering world class role models to both gifted and disengaged students in underserved school districts in inner cities, rural and small town school districts across America is only possible because of Connexus," said Founder and Host, Victoria Smith Downing. "Their exceptionally high quality videoconferencing services, combined with their "hands on technical support", allow us to deliver our broadcasts anywhere in North America, and ultimately the world." Currently, the program is beamed into school districts in Los Angeles, California, Dallas, La Porte, Greenville, Houston, and Greenville Texas, and Fort Gibson, Oklahoma. Contact: victoria(at)kiby(dot)org for information about school participation.
ScholarCHIPS, a 501c3 nonprofit, is becoming an emerging national project with over 30 broadcasts aired to date. As the Legacy Program of the Kilby International Awards, which were created to bring recognition to the forgotten inventor, Jack Kilby, the ScholarCHIPS program focuses on delivering other individuals, many also unknown, who made exceptional contributions to society through science and innovation in a wide variety of fields. Contributors have included Steve Wozniak, Dean Kamen, Marc Hannah, Sylvia Earle, and Mark Reed, among others.
"We are thrilled to be a part of the ScholarCHIPS broadcasts and to provide the vehicle for this interview with Vinton Cerf," said Jonathan Schlesinger, President and Founder of Connexus. It is exciting to know that our products and services, (VaaS) Videoconferencing as a Service and Vidyo HD desktop videoconferencing, are being used to reach and connect these great stories and individuals with students across America."
About Connexus
Connexus makes Vidyo HD desktop videoconferencing available to end users, service providers and resellers from the cloud and allows small and medium sized service providers and resellers to offer Vidyo desktop videoconferencing to end users at prices starting at $60.00 per year per user without any up front capital investment from the service provider, reseller or end user.
The mission at Connexus is to make it possible for service providers and resellers to quickly and easily sell leading edge networks, gateways and videoconferencing and collaboration services to the SMB marketplace, and to accomplish this with little if any additional demand on their resources. At Connexus we focus on delivering the capital intensive applications and services that can help service providers and resellers immediately capture extraordinary revenues and market share in the shortest possible time. Connexus is a privately held company headquartered in Dallas Texas.