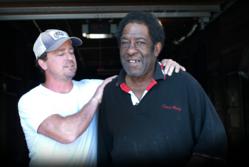 San Francisco, CA (PRWEB) May 25, 2012
Urban Green Investments (UGI) is proud to announce a donation of a two week stay at an exclusive ranch in Kauai which was auctioned at the San Francisco Architectural Heritage Foundation's Annual Gala on April 14th. The Heritage Foundation's mission is to preserve and enhance San Francisco's unique architectural and cultural identity. Urban Green Investments is pleased to be able to support the Foundation in its endeavors. The total value of the donation is $20,000. "We are happy to help the San Francisco Heritage Foundation in any way we can," said David McCloskey, CEO of Urban Green Investments. "Preserving and enhancing the beauty of San Francisco is an issue very close to my heart and is a big part of what we do here at UGI."
UGI also recently partnered with a local non-profit, Rebuilding Together San Francisco, working to renovate and repair the home of an elderly widow living in Bayview. Kevin Skiles, UGI team member and President of Rebuilding Together San Francisco's Board, organized an event where employees and their families dedicated their Saturday to a day of improving the safety of the home, painting and installing new appliances. Rebuilding Together focuses on mobilizing teams of volunteers to revitalize neighborhoods by repairing homes and renovating nonprofit facilities and schools.
About Urban Green Investments
Urban Green Investments is a fully integrated real estate investment firm focused on delivering risk adjusted returns to our institutional and private investment partners that out-perform the market. UGI focuses on the high-barrier-to-entry urban markets of the San Francisco Bay Area and Los Angeles. UGI has a proven ability to reposition assets, increase revenues, control costs, and implement targeted renovations that maximize the value of our investments. For more information please visit the website.