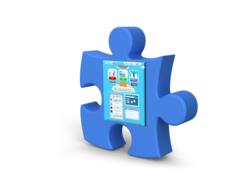 Princeton, NJ (PRWEB) May 24, 2012
The notion of being rewarded for taking an action has been popular for many years. Incentivizing a customer for continuous loyalty has helped propel many businesses to success. So why not reward yourself for being loyal to your body and its ultimate well-being? Healthper has taken this a few steps further by building a proprietary system that can be tailored to meet the needs of any business. Healthper's dynamic system, Healthnage™ increases the control a company has over the program they build and implement. Gone are the days of a "one size fits all" design and in with a fully customizable, healthy social gaming approach.
The majority of Americans are overweight and nearly 1 in 5 are still smoking. And yes, almost 65% of us visit a fast food or quick service restaurant weekly. Despite campaigns to the contrary, fast food, potato chip vendors and soft drink companies know their market and how reel in new customers. Sure, people have become more cognizant of the impact these products can have on the body, but what, if anything does it mean to them?
How we communicate with one another has changed and will continue to evolve. We are constantly bombarded with messages regarding eating healthy to decrease the long term risk of dementia, diabetes and other conditions including possible weight gain. Vitamin and supplement companies are working overtime to flaunt the benefits of their "miracle" products. What will ultimately change the course of human behavior?
Typical programs tend to cap out their engagement level at 20%, with most of that being one time visitors who reap the benefits of a monetary reward, but no physical or emotional change in behavior. Healthngage™ gives employers, health plans and vendors the ability to approach their members and/or audience with custom designed and highly flexible engagement programs. Healthngage™ offers a wide range of tools for the program planner allowing for targeted programs, flexible rewards and incentives by way of cyclic engagements that keep individuals participating and working toward health goals. Lasting involvement and behavior modification will provide across-the-board benefits.
The advantage of Healthngage™ is that integration is fast, simple and cost effective. Healthper has considered all avenues and created a reliable, state of the art, secure solution that can be incorporated into existing programs or created anew. The platform allows you to construct innovative health engagement programs that appeal to diverse populations. These varied social games are intended to drive increased member participation in their personal health and health care plan. Healthngage™ delivers these programs to employees and individuals through participation in the Healthper social community. To learn more about Healthngage™ please visit http://www.healthngage.com
About Healthper
Healthper is an innovative health engagement platform, founded in 2010 and developed by the team from CareGain that helped facilitate Health Savings Accounts. Healthper helps drive sustainable long term behavioral changes through its enterprise-ready health engagement platform. Healthper is a privately held company based in Princeton, NJ. For more information, please visit: http://www.healthper.com or you may follow us on twitter @healthper