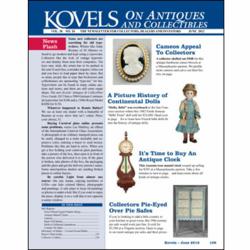 Cleveland, OH (PRWEB) May 31, 2012
The June 2012 "Kovels on Antiques and Collectibles" newsletter is now available in print and online.
Classic cameo jewelry, antique French and German dolls, and all kinds of clocks are featured in Kovels' June newsletter. Terry Kovel reports on a moonstone cameo pendant framed with sapphires that sold for $14,220. Pictures and prices of other cameo pieces made of shell, hardstone and even cast iron are included. June's newsletter also spotlights an auction of high-quality dolls from the early 1800s to the early 1900s. See a French bisque bébé (toddler) doll that cost an excited collector more than $36,000, as well as other special fashion and character dolls that reflect a short history of doll-making. And take the time to read about an assortment of antique clocks—banjo clocks, mantel clocks, even a cuckoo clock—and see some priced examples in Kovels' June newsletter.
In "Kovels on Antiques and Collectibles" June newsletter you can also learn about pie safes, cabinets with perforated tin panels, and bear's oil, a hair preparation made from bear fat, sold during the mid-1800s in bottles that are very valuable today. Regular monthly features such as the Dictionary of Marks (June features crossed sword marks used by Meissen and other factories), the popular illustrated Collector's Gallery with answers to readers' questions, and the Buyer's Price Guide of recent prices are also included.
With its mixture of expert advice and reports on what's hot in the market, Kovels' newsletter has something to offer both beginning and experienced collectors. "Kovels on Antiques and Collectibles" is available as a print subscription, or a digital version that is part of the Kovels.com Premium subscription.
Terry Kovel, well-known columnist and author, gives information and advice on collecting. She will discuss the content of this release or any other antiques and collectibles topics with accredited media. Photographs are available. Contact pr(at)kovels(dot)com.
About Kovels.com
Terry Kovel has written 100 books about collecting, including the best-selling annual price book, "Kovels' Antiques and Collectibles Price Guide." The 2012 guide is in bookstores now. Terry publishes a subscription newsletter and writes a syndicated newspaper column that appears in more than 150 newspapers and digital publications. She and her husband Ralph starred in the weekly HGTV program, "Flea Market Finds with the Kovels." The Kovels website, Kovels.com, offers over 800,000 free prices and other information for collectors, including books, special reports, a weekly emailed letter to collectors, marks and an archive of other informative material. The Kovel brand is run by Terry Kovel and her daughter, Kim Kovel.
Contact Information:
Liz Lillis
pr(at)kovels(dot)com
216.752.2252