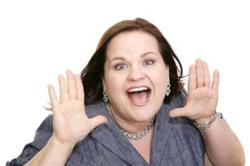 It's all about keeping it real
London UK, 28th May 2012 (PRWEB UK) 28 May 2012
Gone are the days of the waiflike, stick thin models required to model high-street clothing, report UKMA.
UK Model Agencies say plus size models are wanted more than ever before. 'It's all about keeping it real,' they say.
The online model agency specialists offer advice and support for all shapes and sizes of models.
'Companies promoting their clothing for the high-street are always on the lookout for slightly larger models for their catwalk shows. They want models to represent clothing for the general public, and they need models that look like the general public. The average woman in the UK now is a size 12- 14,' continues Helen.
She goes on to explain that a lot of women, and men for that matter, don't consider themselves in the running for modelling because they feel they are larger than what is stereotypically accepted. But there are so many different types of modelling to choose from there are plenty of jobs for all.
'Yes, for the high end fashion market, a strict size and height rule is still adhered to for catwalk and fashion modelling, but this is 2012. There are lots of companies promoting fashion shows which require plus size models and we've seen a surge in demand over recent months.'
The modelling agency experts are at the very heart of the modelling industry, and would recommend anyone who feels they would fall into the category of a plus size model, to maybe think seriously about taking up modelling as possibly a part time career or even as a full-time one.
''Be proud of who you are, whatever shape and size. Size shouldn't mean shame, not in this day and age,' says Jim Dawson, chief press officer for http://www.ukmodelagencies.co.uk. 'As long as you have got the look a modelling agency or a company requiring plus size models needs, then there is plenty of work for larger models.' He continues,' modelling isn't easy and it's certainly not for the shy. A model must be proud of their body and not be afraid to show it off when asked.'
There are so many ranges of clothing to suit different body shapes and UKMA know with first hand experience. They can see a new trend in the casting jobs for plus size models. Informing all the models on their books of impending modelling jobs, is just another service that the model agency directory specialists provide on their website.
'The question we get asked more than anything else is 'how to become a model. There is no right and wrong way for a model to breakthrough, but how to become a model is entirely up to you,' says Helen. 'If a person has got the confidence to be proud of who they are, and want to show the world their assets, then they have got the beginnings of a future in the modelling industry. If you've got the looks, and you've got the swagger, then there is sure to be a niche within the modelling industry - if you have the determination to find it.'
Visit http://www.ukmodelagencies.co.uk and see the latest plus size models on their portfolio pages.