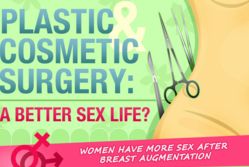 women that have breast augmentation say that they have experienced 61% more frequent and better sex
Los Angeles, CA (PRWEB) May 28, 2012
While it comes as no secret that breast augmentation could improve the confidence in the look of your body, there is now evidence that it leads to better sex.
Through recent studies and research on overall satisfaction and sexuality, BestPlasticSurgeryGuide.com has released an infographic that demonstrates how plastic surgery procedures like breast augmentation have provided many women more frequent and better sex.
Not only do women that have breast augmentation say that they have experienced 61% more frequent sex, they have also stated that almost 75% of their partners also reported an improvement in their sex life.
Women that have undergone breast augmentation surgery or body contouring claim to have reached orgasm more easily, significant increases in arousal as well as sexual desire. Out of all plastic surgery procedures, breast augmentation proved to have the most positive affect on overall sexual satisfaction, followed by body and face surgery respectively.
It was also stated that women who have had enhancement surgery like breast augmentation also said that they experienced a 34% increase in life satisfaction.
Combined from a multitude of surveys and market research, the infographic provides an interesting visualization with regards to one of today's most popular plastic surgery procedures.
Over 1 million women have had breast augmentation over the last 3 years, and the numbers are continuing to rise, with New York, Miami, and Los Angeles being the most popular cities for the plastic surgery procedures.
Studies over the last few years from authorities like WebMD have also suggested that these types of cosmetic surgery procedures have also led to improved self-esteem.
Overall, improvements in sexual and life satisfaction indicate that most women feel that their breast augmentation was worthwhile and the majority believes it to be a positive experience with the results they desired.