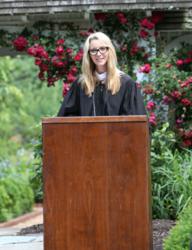 "You decide who you are," said Kudrow. "Pay close attention to who you are and what your comfort levels are."
Middleburg, VA (PRWEB) May 29, 2012
Who knew that the woman famous for playing ditzy Phoebe Buffay on the iconic sitcom "Friends" was once a science nerd who didn't get asked out much and hated going to concerts?
Foxcroft School's 36 graduates and their families and friends learned this and were advised to "decide who you are" Friday when the award-winning actress Lisa Kudrow spoke at the Virginia girls school's 98th Commencement.
"Over the next four years as you step into adulthood," said Kudrow, "You decide who you are. While you are having experiences and exploring things, pay close attention to who you are and what your comfort levels are. Please know and remember, the girl decides."
Kudrow's presence at the Class of 2012's celebration was especially fitting as the group received a special "Head's Prize" for moral courage from Mary Louise Leipheimer, head of the boarding and day school located in the Blue Ridge foothills 50 miles west of Washington, D.C.
"The Class's inclusiveness and kindness epitomize Foxcroft's unofficial motto 'Friends to the end, ' " said Leipheimer. And so it seems appropriate that this class would chose as its speaker today someone who is best known for her work in a television show called FRIENDS."
Kudrow, who earned an Emmy and many other honors during her 10-year-stint on the hit sitcom, didn't mention that show once in her speech. Instead, she shared personal stories of her high school years, as the smart girl who did not fit in, and her difficult beginning at Vassar College.
"I went to a public school in LA, in the Valley," she smiled. "At my school, kids would get up at six in the morning, go surfing, then drop into school for a few periods, knock that out, and then go back to the beach. I on the other hand took extra classes at the community college."
Kudrow did not act in high school or college, focusing instead on scientific endeavors with an eye to graduate school. Socially, too, she was not in a place that her fans might expect.
"I was figuring out who I was and all I had for my guideposts were my comfort zones, my instincts about what I could handle and what I wasn't ready for yet," she said. "I was getting clear on who I was."
In time, Kudrow did move beyond those limits. "I stepped way out of my comfort zone," she noted. "For the love of God, I went from a brown-haired bio major to a blonde actress who's mostly known for playing idiots! The girl decided when she was ready and stayed true to herself all along the way."
Kudrow mingled easily with the graduates, families, faculty, and friends before the traditional garden ceremony. Unlike many commencement speakers, she arrived a day ahead and attended all the activities running up to the graduation – the 90-minute Awards Assembly in a sunny courtyard, buffet dinner in the gym, and baccalaureate at Trinity Church in Upperville. She even stayed on campus.
Kudrow's presence was a treat but the day belonged to the graduates, an impressive group that has been offered 133 acceptances and more than $1.1 million in merit scholarship from 93 colleges and universities, including Columbia, Middlebury, Northwestern, Tulane, Washington and Lee, William & Mary, and the universities of Colorado, Illinois, Virginia, and California at Berkeley.
Senior Class Speaker Alexis Hall, an Atlanta native headed to St. John's University in New York, received the coveted Charlotte Haxall Noland Award for best combining the qualities that Foxcroft's founder valued: high purpose, leadership, integrity, accomplishment, and understanding.
Su Won Jung of South Korea was the class valedictorian and Kimberly Kluwe of Seal Beach, CA, was the salutatorian. Jung will attend Columbia University and Kluwe is headed to the University of California at Berkeley.
Foxcroft School (http://www.foxcroft.org) is a college-preparatory boarding and day school for girls in grades 9-12. Foxcroft's innovative curriculum offers 80 courses, including 12 APs, and nine interscholastic sports, one of which is a nationally-renown riding program. The 2011-12 student body is comprised of 154 girls from 20 states, eight countries, and the District of Columbia. The Class of 2012, which graduated Friday, has been offered 133 acceptances and nearly $1.2 million in merit scholarship by 93 colleges including Columbia, Middlebury, Northwestern, the University of California at Berkeley, Tulane, Washington and Lee, William & Mary, and the University of Virginia.