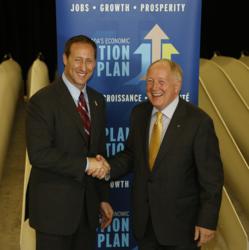 CarteNav will invest in the R&D of imagery processing and analysis technologies designed to improve the HD image transfer capabilities of future C2 systems.
Halifax, NS (PRWEB) May 29, 2012
ACOA's Atlantic Innovation Fund (AIF) is an initiative through which the Government of Canada is making strategic investments aimed at increasing Atlantic Canada's innovation capacity. This program is highly-competitive with all proposals subject to rigorous external review, as well as stiff competition from other proposed projects.
CarteNav Solutions Inc. intends to invest in the research and development of high definition (HD) imagery analysis and dissemination technology to create improved domain awareness for land, sea, and air-based intelligence, surveillance, and reconnaissance operations. The project outcome will be software products that utilize the applied research undertaken.
Provided this type of information can be made readily available, the recent advances in HD electro-optical and infra-red (EO/IR) imaging technologies create the potential for immense operational benefits, such as enhanced detection, tracking, and identification.
To be effective, the captured HD imagery must be both shared between the Common Operating Pictures (COP) of participating agencies, and rapidly disseminated to the end user in the field. All this must also be achieved via an intricate network of legacy communications and data links, which may often be limited by both bandwidth and capacity.
"The key deficiency that intelligence, surveillance, and reconnaissance (ISR) operations face is the inability of existing intelligence infrastructures to fully exploit the high volume of HD imagery products being produced by modern EO/IR imaging systems," says Rick McDonald, CarteNav's CTO.
"Imaging systems not only need to autonomously detect, recognize, and exploit objects of interest within HD Video, they also need to be able to process, classify, and disseminate the imagery in a way that allows immediate access to that information, wherever and whenever it might be needed."
CarteNav's challenge is to develop the technology that enables surveillance operators to rapidly transform unprocessed imagery data into meaningful information without having to wait for image data to pass through often cumbersome secondary, and even tertiary, levels of post-mission analysis. "The advanced software products that can now be produced, as a result of the investment by ACOA, will certainly meet these requirements," Mr. McDonald says.
To provide best value to the end user, imagery products must continue to be compatible within a collaborative multinational command and control (C2) environment, often involving legacy communications and data links, as well as potentially many hundreds of nodes or users.
This funding further strengthens Nova Scotia's competitive position in what is one of the world's fastest growing high technology production centres. All research and associated development will be coordinated at CarteNav's offices in Halifax, Nova Scotia. It is anticipated that work on the project will commence in the Fall of 2012.
Total Project Cost—$2,941,189
AIF Contribution—$2,091,189
For a complete list of AIF-funded projects, visit the ACOA Website.
About CarteNav Solutions Inc.
CarteNav Solutions Inc. is an international leader in situational awareness solutions for the maritime, land, and air environments. Founded in 2002, CarteNav offers operationally proven data integration and display technologies that dramatically improve performance of both sensor operators and tactical decision makers.
The company has established a reputation for creating robust software solutions within a timeframe and cost structure that delivers unparalleled responsiveness and value to its customers. CarteNav's global client base includes agencies from the national defence, homeland security, and public safety sectors.
The company's success is predicated upon its people and its dedication to continued innovation, guided by well thought out and focused research and development. An ISO-9001:2008 registered company, CarteNav's technical expertise in sensor management, graphical user interfaces, map technology and systems integration is underscored by an unwavering commitment to customer service and quality.