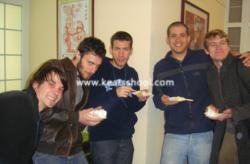 (PRWEB) May 29, 2012
Keats Chinese Language School in Yunnan of China provides Chinese language and culture programs to foreign students who want to learn Chinese in China. Keats School also provides students with food and accommodation service in order to help students get used to the life in China as soon as possible. To accommodate many requests of Chinese cooking classes from the students, Keats School now offers a new Chinese culture program – Chinese cooking class.
Compared to the professional cooking schools which offer semester long class and do not accept short-term studies, Keats School's cooking class is very flexible and students can start anytime. In addition, the tuition fee for the Chinese cooking class at Keats Chinese School is relatively low in contrast with other cooking schools.
Students who stay in China to learn Chinese language for a long time may be familiar with the famous Chinese dishes such as salted chicken cubes with chilli and peanuts, braised beef in sauce, stewed tofu with minced pork in pepper sauce and dumplings and so on. Keats School has prepared recipes for more than 200 dishes for students to learn to practice. The chefs in Kunming Keats Chinese School will teach the students through one-one-one learning style to help them master the basic element in Chinese cooking. The English version of the recipes is provided for reference. Generally speaking, for the home style dishes, two dishes can be finished within two hours. Accordingly, the ten-hour learning will help students know how to cook ten to twenty Chinese dishes.
One advantage of this learning program designed by Kunming Keats Chinese Language School is that the students can choose any dish's cooking way to learn in accordance with their appetites. When students study Chinese at Keats School, there is no limit for the number of the dishes they can choose to learn. Since it is a flexible learning program, students can learn according to their needs and interests. During the process of learning the cooking methods, students can record the demonstrating process of the chefs and the process they cook Chinese dishes with camera so that they can review it if they forget.
After taking the Chinese cooking class, most foreign learners who learn Chinese language at Keats share the dishes with their classmates and teachers at school. It is a great opportunity for students who want to learn Chinese while get to know Chinese culture at the same time. Most Chinese dishes have a story about the origin, some of which even came from the true stories. In this way, the Chinese language learning and the Chinese culture learning merge together.