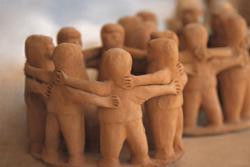 We are going to know a new freedom and a new happiness... ...We will suddenly realize that God is doing for us what we could not do for ourselves.
Wisconsin Dells, WI (PRWEB) May 29, 2012
A Course In Miracles International Teacher of God and Event Coordinator, Doreen "Mariah" Walsh confirmed today that daily 12-Step open speaker meetings will be held as part of the celebration of International Forgiveness Week and Weekend of Perfect Peace, beginning on September 14 and continuing through September 23, 2012.
The daily meetings, a vital feature of the segment of the event entitled "The Miracle of the 12-Step Program", will take place in a private setting known as "The Bridge", the upper room of the Cheese Factory Restaurant, in Wisconsin Dells, WI
Mariah Walsh is "calling addicts of all kinds to come share the brotherhood and support of 12 Step meetings. "A longtime '12-Stepper' and sponsor", Walsh has "seen huge turnarounds" in her own and others' lives through their participation in the 12-Step Program.
Walsh explained, "From the moment I entered my first 12 Step meeting 25 years ago, what I heard was like a breath of fresh air. It rang true: 'If you want what we have to offer and are willing to go to any lengths…' It was a daily program that had already led millions of people to success, and which has led me to God. And of course the minute you have that you share it and pass it on."
"I have known thousands of people experience transformations that are dramatic and lifelong," continued Walsh. "These individuals continue their dedication in passing it on, attending daily to direct their lives toward God and the service of their brothers. People who couldn't find any other thing to work for them, to control their addictions, to deal with job changes, relationship changes… the only thing that helped them really overcome their addictions was sticking to the 12 Step program. I've seen even hardened criminals and hopeless addicts who were full of hate completely turned around to where all they wanted was to serve God and their brother, and just let go of anything that got in the way, and continue to do it. The only ones who fail are those who are not willing to be honest with themselves and others."
Walsh added, "The fact that the program is free, and available in even the smallest of towns around the world is amazing. The opening, the availability of a meeting, continuing to find strength and brotherhood—it's going on all the time anyway—this is what I want to offer during International Forgiveness Week and Weekend of Perfect Peace."
"Here are the promises of the 12-Step Program, read Mariah from the 'Big Book' of Alcoholics Anonymous:
"' If we are painstaking about this phase of our development, we will be amazed before we are half way through.

We are going to know a new freedom and a new happiness.
We will not regret the past nor wish to shut the door on it.
We will comprehend the word serenity and we will know peace.
No matter how far down the scale we have gone, we will see how our experience can benefit others.
That feeling of uselessness and self-pity will disappear. We will lose interest in selfish things and gain interest in our fellows.
Self-seeking will slip away.
Our whole attitude and outlook upon life will change. Fear of people and of economic insecurity will leave us.
We will intuitively know how to handle situations which used to baffle us.
We will suddenly realize that God is doing for us what we could not do for ourselves.
Are these extravagant promises? We think not. They are being fulfilled among us—sometimes quickly, sometimes slowly. They will always materialize if we work for them.'"
International Forgiveness Week and the Weekend of Perfect Peace will be observed worldwide on September 14 – 23, 2012.
For the ten days, A Course In Miracles International will hold special celebration events at the Miracles Healing Center and the Cheese Factory Restaurant in Wisconsin Dells, WI, and in affiliate centers around the world. These event will feature multi-media forums of spiritual healing, art, music, food, 12-Step meetings, and a peace mosaic within a "family festival celebrating the freedom and peace that the healing power of love and forgiveness is bringing to all the world."
For more information about all planned events, and how you can participate, visit http://www.forgivenessweek.org/events.php.
###