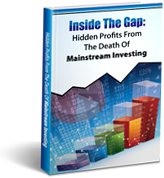 Investors need new, innovative ways to get the help they need without the sales pitch! Inside The Gap provides insight and analysis on how to self-manage with professional help.
Las Vegas, NV (PRWEB) May 29, 2012
Portfolio Architect, a Las Vegas based investment plan and review services firm, recently published a free ebook for investing consumers. The eBook was written specifically for investors seeking to educate themselves on both old and newer investment management methods.
The ebook is titled "Inside The Gap: The Death Of Mainstream Investing". It features statistics, insight and commentary on the flaws and problems with traditional styles of investment management.
The publication was written in response to multiple client inquiries and concern given the growing state of dissatisfaction with Wall Street's "business as usual" tactics. With a growing number of investors seeking new, independent ways to manage their investments - the team at Portfolio Architect felt it was important to get more education and resources out to the public.
Inside The Gap also offers a glance at a relatively unknown ways for investors to self-manage their portfolios, while still getting the professional financial advice and assistance they may need. The ebook claims this method "bridges the gap" between the full service brokerage model and the do-it-yourself online methods.
The ebook is available at the firm's investment review and planning website. There is no cost or obligation to download the book, and it is a quick read at just shy of 20 pages.