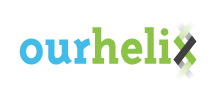 Extract stories from your business and put that into digital form. That's what engages. When people are engaged, they're much
more willing to want to learn more.
Chicago, Illinois (PRWEB) May 30, 2012
Chances are you've heard of "this Pinterest thing" that's become the new social media cool kid on the block. It's now the third largest social media site and the 16th most popular site on the web.
While chatting with small businesses, OurHelix been asked how they can use Pinterest to help their revenue. Here are 6 tips on how small businesses can start using Pinterest to help their brand and create more (quality) leads.
1) Intertwine storytelling with your brand.
One of the most important aspects of running a successful marketing campaign across the digital space is intertwining storytelling throughout the technology. Pinterest is a fantastic resource for visual storytelling, which translates perfectly into getting your brand heard.
For example, if you're running a campaign for a new product, "pin" different images of what you're selling or what you do. Invite people to follow your Pinterest board, and start the engagement from the inception of the campaign.
To get people familiar with their brand, they first need to be engaged. Pinterest helps engage. Engagement drives new interest in your brand, therefore increases leads.
2) Turn data into visuals.
We're all inundated with facts and figures. Many small businesses have been successful in turning data into a visual that people can easily consume (e.g. infographics). Post this on Pinterest to provide a visual gallery of data that many wouldn't take the time to digest.
Also, take quotes and testimonials of customer success stories, and create a visual out of this. The more people are familiar with your success, the more willing they will be to visit your site and learn about your business.
3) Bottom-Up Marketing
Most of us are visual creatures and seeing something is easier than reading about it. Pinterest takes advantage of the web information overload and makes it easier for us to consume information visually. If you're looking to launch a product, it's powerful to get buy-in from your customers at an early start. Instead of having a top-down product launch strategy where a small internal team is providing all of the insight on the design, you can ask your potential customers on ideas and get their input. It's giving the customer the opportunity to have a say in the entire design process.
4) Product in use.
Pinterest gives businesses an opportunity to engage in an online visual conversation. If you've launched, ask your customers to get a 'photo of the day' that represents your product or service. It goes back to engagement. The more they're engaged, the more they'll be willing to advocate your brand and the more quality leads will be brought to your business.
5) Highlight your success while pinning others.
Highlighting your brand is important, but even more importantly, contribute to others boards and take part in their success. The more that you interact with others, the more likely you'll earn their attention. Relationship building via reciprocity is extremely important and Pinterest provides a great platform for that. The more relationships are built, the more quality leads you can obtain.
6) Increase your exposure.
If you have a focused marketing campaign, then tag your posts to be relevant to your product or service. As people are looking for your organization, this will improve search engine optimization. When you're thinking of your Pinterest board names and descriptions, this is something that should be at the forefront. The more people can find your business and get an understanding of what you do.
In summary
Pinterest should not be the marketing tool, but only one tool in a myriad of marketing tools to be used in the digital space. A solid digital strategy should also include other social media outlets, mobile, web alongside a carefully planned and executed marketing strategy to get the word out about your product or service. Also, Pinterest should not be used to directly promote your business. That will quickly turn off people. Instead, use it to extract the human stories from your business and put that into digital form. That's what engages. When people are engaged, they're much more willing to want to learn more.
About OurHelix
OurHelix is a Chicago-based digital firm that imagines and create revenue-driving experiences for small and medium-sized businesses. Within one control panel, businesses can control their custom solutions and digital world including their site, CRM, social media, mobile, search and analytics.