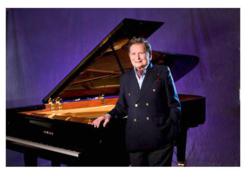 The event, to be held at The Walter Reade Theatre at Lincoln Center on May 30, 2012 from 6:30 - 8 p.m., celebrates Janis, whose dazzling international career and triumph over adversity continues to inspire audiences around the world.
New York, NY (PRWEB) May 29, 2012
The Yamaha Music and Wellness Institute, with the support of Yamaha Artist Services, Inc., will present its Lifetime Achievement Award to internationally renowned concert pianist, Maestro Byron Janis.
The event, to be held at The Walter Reade Theatre at Lincoln Center on May 30, 2012 from 6:30 - 8 p.m., celebrates Janis, whose dazzling international career and triumph over adversity continues to inspire audiences around the world.
This celebratory evening highlights the personal journey of the legendary virtuoso pianist, world ambassador and composer, who despite multiple hand surgeries, continues to extend his mind-over-matter approach and extraordinary gift to those in need. Janis has led unprecedented advocacy efforts in the field of arthritis, championing the cause of others – especially children – who suffer from the disease and face the challenges of Juvenile Rheumatoid Arthritis.
The tribute, hosted by Inside Edition anchor and journalist Deborah Norville, will feature special presentations by renowned neurologist and CEO/President and Director of the Yamaha Music and Wellness Institute, Dr. Barry Bittman, as well as President and CEO of the Arthritis Foundation, Dr. John Klippel. The evening will also include a special performance by Maestro Janis himself, as well as a letter of honor from New York City Mayor Michael Bloomberg.
The program for the evening will feature performances by acclaimed Yamaha pianists Tony DeSare and Gerald Clayton. Creating an evening befitting Maestro Janis, a true living legend, the program will also include: Vy Higginsen's Gospel for Teens Choir of Harlem; sparkling young classical pianist Lola Astanova; a reading by a Benedictine nun from The Abbey of Regina Laudis and 2012 Academy Award documentary nominee Reverend Mother Dolores Hart; a performance by Margo Deihl, an accomplished violinist and Juvenile Arthritis sufferer; a performance by Dr. Richard Kogan, formerly of The Harvard Trio; a letter from Andre Watts; and a video presentation by Emanuel Ax.
In 2011, Maestro Janis joined Yamaha's outstanding worldwide roster of pianists. Because his remarkable work in the field of arthritis advocacy complements the mission of the Yamaha Music and Wellness Institute, which is committed to bridging the gap between music and medicine on the scientific and educational levels, Janis was also named Presidential Advisor to the Institute. Maestro Janis has served as the International Ambassador to the Arts for the Arthritis Foundation since 1986 and maintains a busy schedule presenting workshops for millions who contend with the disease, encouraging participants to achieve their goals despite the obstacles they face.
MEDIA CONTACTS:
For Yamaha: Lisa Cesarano, Giles Communications, (914) 798-7134, lcesarano(at)giles(dot)com
For Byron Janis: For press information and to schedule interviews, limited public appearances and engagements for Maestro Janis, please contact Jamie Dietrich at KlingerVision, Inc. at 212-592-1389 or jdietrich(at)klingervision(dot)com
About Byron Janis
Byron Janis is one of the world's greatest concert pianists. The first pianist to study with the great Vladimir Horowitz, Janis made his orchestral debut with Toscanini's NBC Symphony Orchestra at age 15. He began his career as a concert pianist in 1944. In 1960, the United States Department of State chose him to open the first cultural exchange between the United States and the Soviet Union. At that time, The New York Times reported that "if music could replace international politics, Byron Janis could consider himself an ambassador breaking down cold war barriers." Mr. Janis was invited back by the Soviet Union in 1962, where he had a triumphant seven-week tour. In 1978, he created an acclaimed program on the life of Frederic Chopin, which aired twice, nationally on PBS stations in the United States and in countries around the world. Mr. Janis has had the great honor of being written into the Congressional Record of both the Senate and the House of Representatives, honoring him as a musician, a diplomat and an inspiration. He has written an autobiography, Chopin and Beyond: My Extraordinary Life in Music and the Paranormal. A companion DVD, which features conductor Lorin Maazel and pianist Emanuel Ax, entitled The Byron Janis Story, directed by Peter Rosen, also chronicles his life and is currently airing across the United States on PBS. Mr. Janis has also released, The Chopin Collection, in 2012 on EMI Classics and is scheduled to release, Live From Leningrad, in July 2012.
Web: http://byronjanis.com/
Facebook: http://www.facebook.com/ByronJanis
Twitter: http://twitter.com/#!/ByronBJanis
You Tube: http://www.youtube.com/user/byronjanismusic
About Yamaha
Yamaha Corporation of America (YCA) is one of the largest subsidiaries of Yamaha Corporation, Japan and offers a full line of award-winning musical instruments, sound reinforcement and home entertainment products to the U.S. market. Products include: Yamaha acoustic, digital and hybrid pianos, portable keyboards, guitars, acoustic and electronic drums, band and orchestral instruments, marching percussion products, synthesizers, professional digital and analog audio equipment, Steinberg recording products and Nexo commercial audio products, as well as AV receivers, amplifiers, Blu-ray/CD players, iPod docking systems, home-theater-in-a-box systems and its exclusive line of Digital Sound Projectors. YCA markets innovative, finely crafted technology and entertainment products and musical instruments targeted to the hobbyist, education, worship, professional music, installation and consumer markets.
About Yamaha Music and Wellness Institute (YMWI)
The Yamaha Music and Wellness Institute, Inc. (YMWI) is a 501(c)(3) non-profit organization with a unique purpose—to scientifically explore and share the benefits of creative musical expression as an effective wellness strategy. Based upon a solid foundation of published scientific studies, YMWI is committed to reestablishing active music participation as a healthy lifestyle strategy. With a focus on research and education, YMWI is the only organization in the world specifically dedicated to developing and evaluating novel Recreational Music Making strategies. YMWI's ultimate goal is to enable individuals of all ages, regardless of prior experience, to discover the joy and personal benefits of playing a musical instrument.