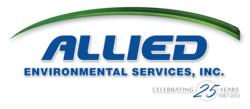 Allied also offers a state-wide mercury collection and recycling program to K-12 schools
Lima, Ohio (PRWEB) May 30, 2012
Summer break is a busy time for school maintenance and facilities crews. With classrooms and hallways empty, many districts take the opportunity to complete a wide range of environmentally sensitive projects including asbestos removal/repair, laboratory chemical management/disposal, neutralization tank cleaning and underground storage tank upgrades or removal. With offices in Toledo and Lima, Allied Environmental Services, Inc. (Allied) assists many school districts and universities throughout Ohio with such projects.
According to Chad Reynolds, Allied Sales Manager, summer break can be a hectic time for environmental professionals. "It is much easier and safer for schools to complete certain projects when class is out of session and there are fewer building occupants", stated Reynolds. "When dealing with hazardous materials such as asbestos or lab chemicals, it is sometimes necessary to temporarily isolate a section of the building, which is not easy to do during the school year", he added.
Most of the projects are scheduled in advance as part of routine maintenance, but some arise as unforeseen issues. A room or wing renovation project, for instance, may result in disturbance of unidentified asbestos building materials, or chemicals may be spilled during routine maintenance activities. "Allied completes many projects for numerous school districts each summer and we always ask the schools to contact us early to schedule work. Of course, some projects are more spontaneous. Fortunately, Allied is a 24-hr emergency response provider, so we can respond to any situation at a moment's notice", Reynolds said.
Allied also offers a state-wide mercury collection and recycling program to K-12 schools. The mercury program is essentially free (with minimal travel/fuel charges for collection) to all Ohio school districts. "We collect a lot of mercury and mercury devices from schools during the summer break when storage areas are cleaned and inventoried", Reynolds stated. "At this time, schools also replace equipment including mercury thermometers, thermostats and light bulbs/fixtures", he added.
About Allied Environmental Services, Inc.
Allied Environmental Services, Inc. (Allied) is a leading environmental consulting and contracting firm with offices in Lima, Ohio and Toledo, Ohio. For over 25 years, Allied has provided professional environmental management solutions to private industry, property owners, lenders, municipalities, schools, and hospitals. Allied specializes in hazardous materials management, emergency spill response, industrial cleaning (vac-truck and hydroblasting services), asbestos abatement, underground storage tank closure, Phase I and II ESA, and air quality testing.
For more information please visit Allied's website at http://www.allied-environmental.com.