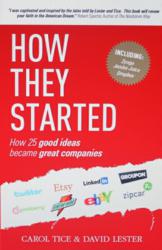 How They Started is a fun, informative and voyeuristic peek inside how some of the most beloved companies in the world were founded. A must-read for any business enthusiast. - Carol Roth
Seattle, WA (PRWEB) May 30, 2012
Entrepreneurship is on the rise. Ever wonder if you have a good enough idea or the moxie it takes to launch a business?
Would you, for instance,

Attend a startup meeting minutes after having your car totaled?
Continue if first-month sales were just $70?
Survive if the majority of your customers disappeared for three months?
All three scenarios actually happened and are among the fascinating and inspiring tales of how some of today's hottest companies got their start, and includes the initial challenges these entrepreneurs faced before becoming successful. Never before have these stories been gathered in one place as they are in How They Started: How 25 Good Ideas Became Great Companies, publishing May 29.
Co-authors Carol Tice and David Lester feature the startup stories of Twitter, Zynga, Dropbox, Spanx, Pinkberry Frozen Yogurt, and Chipotle Mexican Grill, as well as Google, Groupon, LinkedIn, Electronic Arts, Etsy, eBay, and Whole Foods Co.; and a few American Classics, such as Microsoft Corp., Coca Cola and The Walt Disney Co.
Many of these founders discovered their big idea only by accident or serendipity. It might be hard to imagine their difficult climbs to success given where these hot companies are today, but some encountered obstacles so great the companies nearly folded. The new book How They Started reveals the qualities entrepreneurs need — perseverance, courage, creativity, and yes, sometimes a little luck — to start and grow a famous brand.
Through interviews with many of these startups' founders, investors, and early employees, Tice and Lester provide new insight on familiar stories such as the founding of Groupon, Zynga, and Pinkberry Frozen Yogurt, creating a collection that offers aspiring entrepreneurs a glimpse of what happens in a startup's frantic early years.
Authors
Carol Tice is a veteran freelance writer who has covered business and finance topics for the past 20 years, first as a business journalist and now as a writer and blogger for print and online publications such as Forbes, Entrepreneur, and The Seattle Times. This is her first print book.
Co-author David Lester is no stranger to startups – the UK resident founded a successful game software company when he was just 22 and sold it to Sierra Online for millions, and currently runs the UK's largest websites for startups, (http://www.startups.co.uk ; and http://www.growingbusiness.co.uk), reaching 300,000 business owners a month. Lester has written several How They Started books, and founded Crimson Publishing.
Learn more at http://www.howtheystarted.com
Contact: M. Sharon Baker, 360-354-0000 or Sharon(at)msharonbaker(dot)com
Title: How They Started: How 25 Good Ideas Became Great Companies
Release: May 29 2012— paperback
Publisher: Crimson Publishing Ltd., 1905 Jewel Drive Woodbury, MN 55125
Tel: (651) 808 1970
ISBN 978 1 78059 074 5
Price: $17.99—288 pages; for bookseller discount rates, contact publisher
"How They Started is a rollicking, information-packed, fun ride through American Entrepreneurialism as it's happening today." – Adam Cohen, author of The Perfect Store: Inside eBay
"How They Started is a fun, informative and voyeuristic peek inside how some of the most beloved companies in the world were founded. A must-read for any business enthusiast." - Carol Roth, recovering investment banker and New York Times bestselling author of The Entrepreneur Equation
"Business ideas are meaningless. Carol Tice and David Lester write about the successful companies that went out and executed!" - Barry Moltz, Getting Small Businesses Unstuck and co-author of Small Town Rules