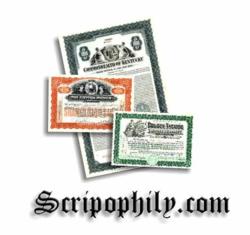 If it is determined that the certificate has no redeemable value, it may have collectible value. You can find out collectible value at Scripophily.com.
Washington, DC (PRWEB) May 30, 2012
Bob Kerstein, founder of Scripophily.com and Stock Certificate Expert has recently been featured on Inside Edition, the Today Show and CNBC discussing value of paper stock certificates.
Scripophily.com's Old Company Research Service has been providing research since 1880 for individuals, banks, attorneys, estates and trusts detailing the company's history regarding name changes, mergers, bankruptcies, and predecessor and successor companies. If the company did survive, OldCompany.com will provide contact information so a determination can be made as to whether the securities have any redeemable value.
"If it is determined that the certificate has no redeemable value, it may have collectible value," according to Bob Kerstein, Founder of Scripophily.com and Old Company Research Service. You can find out collectible value at Scripophily.com. Tens of thousands of people from around the world collect stock and bond certificates in a hobby called Scripophily. Certificate values range from a few dollars to more than $500,000 for the most unique and rare certificates. Buyers of old stock and bond certificates include casual collectors, corporate archives, museums and serious collectors.
In the age of modern technology and updated Security Exchange Commission requirements, securities no longer need to be in paper certificate form. They can be registered and transferred electronically. Paper stock certificates are slowly being removed and retired from circulation in exchange for electronic recording. This means fewer new paper certificates are reaching the market and older ones are destroyed when they are redeemed. As a result, paper stock certificates are becoming extinct and highly collectible.
Scripophily.com- The Gift of History is the Internet's leading buyer and seller of collectible stock and bond certificates, and old stock research at OldCompany.com. The company has had items on display in the Museum of American Finance in New York, an affiliate of the Smithsonian Institution. Scripophily.com has been featured on CNBC, USA Today, Baltimore Sun, and Washington Post and in many other media publications. Our online store has over 17,500 selections including categories such as Frauds, Scandals, Bankruptcies, Dot Coms, as well as the traditional American industries.
Scripophily.com / Old Company Stock and Bond Research Service recently acquired the Old Stock & Bond Research Archives from Herzog & Co., Inc. The asset purchase includes all archives, publishing rights and copyrights on obsolete research reference material published by the Marvyn Scudders Manuals, the Robert D. Fisher Manuals, and the Herzog & Co., Inc. obsolete research services, which have been performed continuously since 1880.
Scripophily.com and OldCompany.com was founded by Bob Kerstein, a Certified Public Accountant and Chartered Global Management Accountant who has more than 36 years of senior management experience in the Cellular, Cable TV, Satellite, Internet, Professional Sports and Entertainment Industries. Bob is also the President of the Professional Scripophily Traders Association (PSTA).
For more information on Scripophily.com®, visit http://www.scripophily.com/, http://www.oldcompany.com and http://www.bob.com or call 1-703-787-3552.
# # #