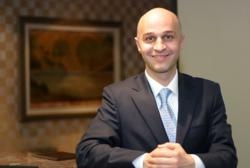 Fear of the dentist, or dental phobia, is one of the main roadblocks to quality dental care and preventative maintenance that many people face, especially children
San Francisco, CA (PRWEB) May 31, 2012
An article from the June 2012 issue of Inside Dentistry titled "Pediatric Sedation Dentistry" explores the growing complexity of treating pediatric patients and how more dentists should be trained in sedation dentistry for this population. According to the article, the increase in dental problems in young patients is correlated with the declining number of pediatric dentists. The solution, detailed in the article, is sedation dentistry.
Dr. Samer Itani of the San Francisco dentist office Itani Dental has over a decade of experience working with special needs patients and children who require sedation to be treated properly. Today, Dr. Itani gives his professional opinion about how using sedation dentistry can help avoid dental phobias, keep children comfortable and produce better results.
"Fear of the dentist, or dental phobia, is one of the main roadblocks to quality dental care and preventative maintenance that many people face, especially children," says Dr. Itani. "Sedation dentistry is a safe and effective way to put these patients with anxieties and pain at ease, no matter their age."
Candidates for Sedation Dentistry:

Mild, moderate to severe phobia or fear
Medically compromised
Moderate to severe gag reflex
Difficulty getting numb
Allergies or intolerance to local anesthesia
Combative or noncompliant
Complex medical conditions
Need for extensive or complex treatment
As a practitioner of sedation dentistry in San Francisco, Dr. Itani says the most important thing is to make the child – or any patient suffering from phobia – feel comfortable. According to Dr. Itani, the biggest challenges that many dentists face with pediatric patients is keeping them calm enough to treat them safely and leaving a lasting positive impression so their dental fears do not persist.
As outlined in the article, general practitioners and pediatric dentists need to work together. Many patients are referred to Dr. Itani by pediatric dentists who do not perform sedation dentistry. Dr. Itani can then schedule appointments for these patients at one of the several hospitals where he is affiliated and treat them while they are sedated in a secure setting.
"Treating a child with sedation dentistry is very safe," explains Dr. Itani. "It also ensures that the child has a positive impression of the visit and helps avoid any negative associations with the dentist that child may have."
According to Dr. Itani, most dentists today offer nitrous oxide, some offer oral conscious sedation, fewer offer IV sedation and only a handful offer general anesthesia. Itani Dental offers all options, and with the help of specialists, is able to administer the appropriate level of sedation for patients of all ages. This allows Dr. Itani to perform procedures in a safe and effective manner, avoid dental fears, and help decrease the amount of dental problems in patients.
For more information about Itani Dental's San Francisco dental services, call (415) 830-9631, visit http://www.itanidental.com, or stop by 450 Sutter Street, Suite 2318 in San Francisco, California. Become a fan of Itani Dental on Facebook at facebook.com/ItaniDentalSanFrancisco and follow them on Twitter @ItaniDental to stay up to date with the San Francisco dentist's latest offers, promotions and news.
About Itani Dental
Itani Dental is a leading and experienced San Francisco dental practice specializing in the special needs and phobic patient population. For over 10 years, Itani Dental has offered cosmetic dentistry, dental implants, Invisalign, sedation dentistry, senior care dentistry, home care and house call dentistry, and emergency dentist services in the San Francisco Bay Area.
Conveniently located downtown close to San Francisco public transportation, the wheelchair accessible dental office of Dr. Itani is fit for special needs patients and is constantly updated to the latest technology and standards of practice.
Dr. Itani offers sedation dentistry for San Francisco Bay Area patients with dental phobias and cognitive, developmental or physical disabilities to ensure they receive the most suitable dental care possible. He also has 24-hour emergency, weekend and evening dentist appointments available in the Bay Area.
The experienced and compassionate members of the Itani Dental staff speak Arabic, Bosnian, Czech, French, Mandarin and Spanish to provide easy and straightforward communication with culturally diverse patients. Itani Dental accepts Aetna, Assurance, Anthem Blue Cross, Blue Shield, Cigna, Concordia, Delta Dental, Guardian, Humana, Metlife, and United Health Care Group dental insurance providers, but will work with patients to get out-of-network coverage.
To learn more about dental services provided by Itani Dental in San Francisco, or to schedule an appointment, call (415) 685-0011.