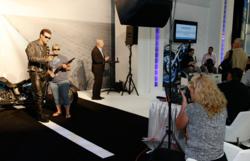 Giving a photo away has to create a ROI for the Client and Professional Images Photography knows how to do just that.
Las Vegas, NV (PRWEB) May 30, 2012
Onsite Printing Photography with Social Media is a volatile photography marketing service that created a buzz at the recent EMC World Las Vegas at The Venetian. Professional Images Photography has a hit with this great concept and it proved successful. Using the latest in digital photography technology and the latest in digital printers helped the crowds get photos with either the Terminator look alike at one tradeshow booth and at another with Optimus Prime, which green screen photography was utilized. Two Tradeshow booths hired Professional Images Photography during the same show and Joseph's team of 10 staff members it was smooth every day.
As each tradeshow attendee visited either booth their photo was taken and then an email was asked for. While the photo was being printed which took about 7 seconds, an email with the photo was immediately sent out to the attendee. The email thanked them for stopping by and also a quick informational paragraph about their product or service and also an opportunity to win a prize was read. Also hotlinks to Facebook Pages and Twitter was included.
Well over 1000 took advantage of the great photo sets and the Facebook and Twitter accounts were showcasing the images. Many attendees came back commenting in great surprise how fast they received their photos.
Joseph Rodriguez owner of Professional Images Photography provides is more than just Convention Photography and Event Photography. His vision is the future on how Corporate photography can be more than just a camera taking photos but a marketing tool that is beyond the traditional role that faces photography today. Branding a company, a product or a service is imperative in today's tough economic times. Giving a photo away has to create an ROI for the client and Professional Images Photography knows how to do just that.
About Us:
Professional Images Photography founded in 1987 provides Convention, Conference, Onsite printing and Event photography services Nationwide. The company is based in San Antonio, TX with offices in Houston, Orlando, Washington D.C. and now coming soon to Las Vegas, NV.