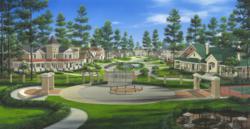 Main Street America picked Aquatic because people want choices and the company has the largest and most comprehensive collection of beautiful, state-of-the-art tubs and showers.
Anaheim, California (PRWEB) May 30, 2012
Aquatic, the world leader in innovative and inspirational bathware, today announced that the company has been selected as the primary provider of bathtubs and showers for Main Street America®.
Scheduled to open this fall in Spring, Texas, near Houston, Main Street America is one of the most original, marketing and sales concepts ever developed for the home building industry. It will be the nation's first year-round, new home and remodeling show and largest ongoing kitchen and bath demonstration site. Proprietary technology developed for this project will help educate visitors, facilitate a seamless buying experience and empower manufacturers to effectively market to consumers after they leave the property.
Open seven days a week, the 14-acre, multi-million dollar, home theme park will include 12 architect-designed, superbly appointed houses showcasing fully operational fixtures and products from today's top brands. The homes will represent a wide range styles and interior décors including Old World Mediterranean, Spanish Courtyard, French Hill Country, Coastal Plain, Greek Revival, Texas Hill Country, Contemporary Modern and Traditional. Aquatic will outfit nine of the houses with more than 30, best-selling tubs and showers from the company's Everyday, Hydrotherapy and Accessible lines.
"We picked Aquatic as our primary provider of tubs and showers over other manufacturers because the company stands for what we believe in and offers everything that new home buyers and people who are remodeling want," said Mike Feigin, founder, owner and CEO of Main Street America and also owner of Design Tech, one of Texas' leading custom homebuilders.
"People want choices versus being forced to accept one of a few options or worse, what a builder or contractor decides to install," said Feigin. "Aquatic has the largest and most comprehensive collection of state-of-the-art tubs and showers – beautifully designed and perfectly engineered products to meet every need. We also can count on Aquatic to produce and deliver its products on time and in flawless condition."
Feigin expects Main Street America to attract more than 300,000 visitors a year from cities all over Texas. Equipped with hand held devices that utilize radio-frequency identification, or RFID, technology, visitors will take self-guided tours through each home where they can see and experience working products in installed environments. They will be able to scan "hot-spots" on products that interest them to instantly access more information about the manufacturer, features and functionality, cost, etc.
Each time a guest scans an item, s/he will be given the choice to save the information to her/his virtual "Project List," which s/he can access later through the Main Street America website. Through the hand held device, the guest also can request more information directly from product manufacturers – at the moment of inspiration. Manufacturers can see when a shopper scans their products through real-time, online reporting.
Main Street America additionally will include a two-story, 44,000 square foot guest center with a custom home building office, a home remodeling center, an interior design studio, mortgage financing services, a specialty café, and a childcare area. There also will be a large meeting room where manufacturers can gather with trade customers before or after touring the houses – for product briefings, continuing education sessions and more. Another building will house a cooking school, led by a professional chef, plus a demonstration studio. Throughout the property, visitors will be able to participate in home product demonstrations, how-to workshops, home-buying seminars and seasonal events such as spring gardening classes, July 4th fireworks displays, summer BBQs, fall football block parties and Christmas on Main Street.
"Main Street America represents an incredible marketing opportunity for us – one that is very different than and, in some ways, superior to anything we could do through more traditional methods such as a three- or four-day trade show," said Stacy Zar, Aquatic's Director of Marketing and New Product Development.
"We own the bathware category at this truly visionary, one-stop showplace where consumers as well as our distributors and sales representatives can experience working versions of so many of our products in gorgeous homes," said Zar. "This will be our biggest 'showroom' to date and an unparalleled venue for us to educate and inspire both distributors and end-users about Aquatic's offering."
About Aquatic
Born from the 2010 merger of Lasco Bathware and Aquatic Whirlpools, Aquatic is the world leader in bathware, offering the broadest and most inspiring selection of tubs, showers and accessories. The company's Hydrotherapy, Everyday and Accessible lines include more than 300 superbly designed and engineered products for virtually every need. Based in Anaheim, California, Aquatic serves distributors, builders, architects, designers and consumers through a nationwide network of state-of-the-art facilities for manufacturing, distribution and support. For more information, visit http://www.aquaticbath.com.
# # #