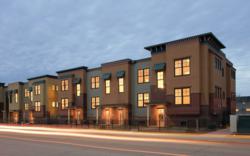 Aspen, Colorado (PRWEB) May 31, 2012
Alpine Property announces a unique property listing in Carbondale, Colorado. The real estate listing is a bulk sale, and comprises eight recently constructed townhomes, of which seven townhomes are finished and one is partially complete. The townhomes are a mixture of 2 and 3 bedroom units, with three 2-bedroom units and five 3-bedroom units. Located on Main Street, the eight townhomes are part of the Mountain Sage Townhomes Development in downtown Carbondale.
The goal of the Mountain Sage Development is to provide luxury, upscale living in the heart of Carbondale's town center. The eight townhomes are located within walking distance from restaurants, parks, and entertainment venues in Carbondale, and they are also situated within close proximity to Highway 82 for ease of commuting throughout the Roaring Fork Valley.
The seven finished townhomes are designed in an updated Victorian style, and fit harmoniously in the local architectural landscape of downtown Carbondale. Materials used for the exteriors of the Mountain Sage townhomes include brick, stucco, wood, and metal. The finished interiors are of superior, upscale quality with engineered wood floors, slab granite countertops, and solid core knotty alder doors.
Alpine Property Managing Broker Erik Cavarra and Real Estate Broker Buck Jones have bundled twelve parcel lots into the bulk sale with the eight Mountain Sage Development townhomes. Each of these yet undeveloped parcels have the potential to be developed into twelve new units.
Erik's knowledge of the Aspen Real Estate market covers everything from large asset acquisition such as Hotel & Commercial Developments to Fractional Residence Clubs and luxury Snowmass homes.
For more information about Alpine Property Management's bulk sale listing of the Mountain Sage Townhomes Development and twelve undeveloped parcels in downtown Carbondale, Colorado, contact Managing Broker Erik Cavarra and Real Estate Broker Buck Jones at 1-800-543-0839 or ecavarra(at)alpineproperty(dot)com.
Alpine Property is a real estate, vacation rental and property management company based in Aspen and Snowmass Village, Colorado. With 70 years of cumulative property management experience, their mission is to provide an exceptional overall experience and efficient, detailed service for both those renting a property and for those owners renting out their property. Alpine Property Management brings their passion for excellence and their attention to detail in providing outstanding services to guests staying in Aspen rental properties ranging from luxury private homes, condominiums, and townhouses in Aspen and Snowmass Village.