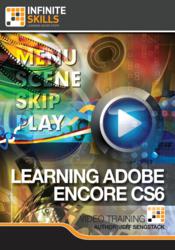 (PRWEB) May 31, 2012
Software training firm InfiniteSkills Inc. has released a new tutorial, Learning Adobe Encore CS6, designed for new users of of Adobe's video authoring and publishing application.
Encore is a video authoring application geared toward video professionals that allows users to add menus and buttons which provide viewers with the ability to navigate the video timeline and access additional content. The InfiniteSkills Adobe Encore CS6 Video Training course provides the essential tools for publishing videos as DVDs, Blu-Rays, and flash videos with the quality and functionality of feature-films.
Learning Adobe Encore CS6 Tutorial Videos - Training DVD-ROM
The InfiniteSkills Adobe Encore CS6 Video Training puts Encore's functionality right at the user's finger-tips, providing direct access to Encore's most important tools so that users can begin creating videos almost immediately. Students learn by actually performing essential Encore tasks following the guidance of industry expert Jeff Sengstack, who guides users through complex topics such as importing and managing assets, creating menus and menu buttons, and exporting in various formats.
Encore's specialty is the ability to include menu functionality with the final video product. Menus allow end-users to interact with the video timeline, jumping to particular chapters, or to extra content. Sengstack takes users in-depth with Encore's menu capabilities, exploring how to add and edit menus, or build a menu from scratch using library or Adobe Photoshop elements. He also covers the special properties of Blu-ray menus.
Sengstack is an author and producer who spent the first decade of his career in audio and video production for television. He has continued to work in a/v, and currently teaches production methods at the university level. He has also written several instructional books for Adobe products.
Free demo videos and a full list of course contents can be found on the Learning Adobe Encore CS6 training page on the company website:
http://www.infiniteskills.com/training/learning-adobe-encore-cs6.html
InfiniteSkills offers its Learning Adobe Encore Tutorial series either as a DVD-ROM or a direct download from the company website at a retail price of $99.95. All InfiniteSkills titles and formats are compatible with Mac and Windows operating systems, and shipping is available across the globe. InfiniteSkills tutorials are supported by project files which correspond to examples in the videos onscreen.
About InfiniteSkills Inc.
A leader in the field of software training, InfiniteSkills tutorials are based on a task-oriented model, teaching complex skills by providing hands-on examples and guiding users through performing essential functions. InfiniteSkills offers a comprehensive range of software titles available as DVDs, digital downloads, and in iPad editions, keeping with company aim of delivering professional training to customers anywhere they want to learn.