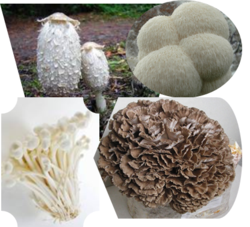 Many mushrooms can cause a shift in awareness. We might interpret these shifts as increased emotional and spiritual connectedness -- extremely important to children with autism and their families.
Perkins, OK (PRWEB) May 31, 2012
In a previous prweb.com press release at "Mushrooms and Autism: White Button Mushrooms, Shiitake, Reishi, and Oyster Mushrooms," Lost Creek Mushroom Farm owner Sandra Dutreau Williams, PhD, discussed some of the basic properties of mushrooms that make them effective in the treatment of cancer, autism, and other conditions.
According to Williams, "These mushrooms are high in protein and rich in nutrients, but they are more than food. They have specific chemical compounds and energies that can address illness, enhance our well-being, reduce anxiety, increase energy and improve functioning. ."
Mushrooms offer nutritional healing for an array of conditions, especially the treatment of various cancers. Concentrations of shiitake and reishi mushrooms are used in Japan as the first line of treatment for cancer and AIDS. In the US they're used in conjunction with chemo- and radiation therapies to reduce side effects and speed recovery time.
According to a statement from Aloha Medicinals, a manufacturer of mushroom-based supplements, "Mushrooms contain biologically active polysaccharides of different chemical compositions, with most belonging to the group of β-glucans; these have β-(1→3) linkages in the main chain of the glucan and additional β-(1→6) branch points that are needed for their anti-tumor action."
The "Fabulous Four," Shiitake, Reishi, Maitake, and Cordyceps (not a mushroom, but a member of the fungus family) are used alone and in combinations with other mushrooms and with supplements that enhance the immune system. These and other mushrooms support a TH2 shift in immune system function, which makes them particularly valuable in treating people on the autism spectrum.
In general, these mushrooms are high in protein and provide sources of vitamins, minerals, and natural chemical compounds, making them a nutrient-dense food easily available at grocery stores, Asian markets and health food stores. They can be found online as fresh or dried mushrooms, as supplements (also in health food stores), and as growing kits.
Williams stresses that mushrooms are not for everyone. There are people whose bodies can't tolerate or process mushrooms. "For children who like and will eat mushrooms, we have the possibility of increasing healing by adding or increasing their consumption."
Enoki are light, delicate, crunchy mushrooms, rich in potassium and fiber. Medically, they inhibit the growth of tumors. "There's a good possibility," Dr. Williams said, "that the enoki can enhance communication in the family, such as increased eye contact, greater tolerance toward being touched, increased smiling and listening. In general, a softening."
Maitake is sometimes available at farmer's markets. "The best source for maitake is growing kit." The taste is slightly sweet and the texture varies with cooking. Maitake is a powerful medicinal mushroom and is available in supplements. It is an immunopotentiator and directly activates macrophages and stimulates production of interleukin-1. Maitake has antitumor and anticancer effects in specific cancers; lowers blood pressure, and restores normal insulin and blood sugar levels.
For those on the autism spectrum, it may be useful in modulating diction and proprioceptive feedback -- the sensory information, specifically of touch; and in stimulating a feeling of contentment.
Lion's Mane has anti-anxiety, anti-tumor, anti-fungal and anti-cancer properties and may prove effective in treating dementia and Alzheimer's Disease. For children with autism, these mushrooms may influence personality development, creative expression in the arts, stability, and muscular coordination. It grows wild in the US and is available in supplement combinations. "It's best eaten fresh from the woods (use a guide!) or from a growing kit," Williams said.
Williams describes Shaggy Mane as "the mushroom you see in the yard that comes up white, then turns black and squishy." You can order it in a kit and find it in supplements. It's an antibiotic used to treat staph infections, an anti-tumor, active against breast cancer, ovarian, and other cancers. For those on the autism spectrum, Shaggy Mane may stimulate a greater sense of fellowship.
Williams' primary source for nutritional and medicinal information is "The Fungal Pharmacy" by herbalist Robert Rogers, published in the spring of 2012. "It's a wealth of resources, research, and wonderful fungal photography," she said.
For more information on these and other mushrooms that can address ASD, contact Dr. Williams at mushroomsforasd(at)yahoo(dot)com. The Lost Creek Mushroom Farm website has information available about the healing effects of shiitakes. Lost Creek Mushroom Farm Shiitake Log Kits are available online at http://www.shiitakemushroomlog.com, by phone at 800-792-0053, and at slightly higher prices, on Amazon.com.