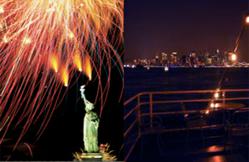 Reserve123 offers 13 spectacular Fireworks Cruises across the country, ranging from sightseeing harbor cruises to premium dinner dance cruises
Atlanta, Georgia (PRWEB) June 29, 2012
With summer heating up and Fourth of July activities right around the bend, Reserve123 is ready for a busy summer with a great variety of new tour offerings. For customers seeking last-minute ideas for the Fourth of July, Reserve123 offers 13 spectacular Fireworks Cruises across the country, ranging from sightseeing harbor cruises to premium dinner dance cruises.
Reserve123 is now offering new bus transportation tours to many popular attractions in San Diego, including Legoland theme park, the San Diego Zoo, San Diego Zoo's Safari Park, Sea World San Diego, trips to Tijuana, Mexico and more. Tours are conducted in comfortable air conditioned motor coaches and vans and include round-trip transportation. Also new in California are many multi-day tours from Anaheim and Los Angeles to Las Vegas and San Diego, such as the popular Hollywood Express From Anaheim PLUS Stars Homes Tour or the Anaheim to Las Vegas & Grand Canyon Weekend 3-Day Tour Package.
New show offerings in Pigeon Forge, Tennessee include the Hatfield & McCoy Dinner Show, Country Jamboree, The Comedy Barn, and the Smoky Mountain Opry. The Pigeon Forge area is home to a number of shows and also has hiking tours, canoe trips, horseback riding, helicopter tours, Jeep tours, tubing, river rafting, and jet boat rides. For the best and only upside-down attraction, Reserve123 now offers admission tickets to the famous WonderWorks attractions in Pigeon Forge, Tennessee and Panama City, Florida. Reserve123 also offers WonderWorks Admission Tickets in Orlando, Florida. Visitors who enter the buildings will find everything to be upside-down, and in order to participate in the fun, guests are safely inverted for a fantastic journey through the attraction with more than 100 hands-on exhibits.
For the food connoisseur, there are many new food tour offerings in 19 cities across the United States. Specialties include food truck tours, progressive dinner tours, pub crawls, and more providing a great diversity of regional cuisine and beverages.
Internationally, Reserve123 now offers a wide variety of private tour experiences & Segway tours in Paris, France. Some unique tours include the Ballooning Adventure in Paris, Coffee Tasting Club Tour, the Spirit of Paris River Route Segway Tour, the Chocolate & Pastry Private Walking Tour in Paris, and the Private Horse Drawn Carriage Champagne & Roses Proposal Ride in Paris.
Reserve123 is the affiliate site of Alcatraz Media, the world's largest provider of tours and activities, welcoming over a million visitors per month. They provide reservations for more than 11,000 tours, attractions, and activities in over 550 destinations and 85 countries. Alcatraz Media was formed in 1999 in San Francisco, California, and is now headquartered in Atlanta, Georgia. The company has assisted millions of customers with their travel plans, and maintains an A+ rating with the Better Business Bureau. For more information, please visit Reserve123.com or call toll free at (800) 745-1925.
###