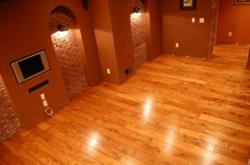 Atlanta, GA (PRWEB) June 12, 2012
Engineered wood flooring can be installed using various methods over both plywood and concrete, making it a great flooring choice for basements and commercial interiors. Floating-floor installation is a popular method because the floor doesn't have to be permanently attached to the sub-floor. The installer simply applies adhesive to the engineered wood flooring tongue-and-groove interlocking system and taps the board into place. The floating-floor method makes it easy and quick for DIY'ers and allows for mistakes to be fixed relatively easily.
simpleFLOORS offers many contemporary eco-friendly engineered hardwood floors including their new wire-brushed eucalyptus collection, Pura Vida, available in two colors, Coronado and Dominical.
All simpleFLOORS engineered wood flooring is manufactured to the highest construction standards, including the use of environmentally-friendly European-standard Dyno adhesives in their manufacturing process.
simpleFLOORS Inc. is an Atlanta-based factory-direct online retailer with 15 showrooms in California, Oregon, Washington, Georgia and Florida, offering premium-grade design-conscious wood flooring at guaranteed low prices. Guided by fresh insights from the interior design community, including new color trends, depth-enhancing hand-sculpting techniques and distinctive grain treatments, simpleFLOORS contract-manufactures, imports, sells and ships direct to residences, business addresses and construction sites for pick-up anywhere in the U.S. and Canada.
From engineered exotic species to laminates, bamboo and cork products, simpleFLOORS respects the environment and carries a wide range of sustainable, renewable, durable and long-lasting wood flooring options.
Contact simpleFLOORS at 800-220-7112 or visit the simpleFLOORS website at http://www.simplefloors.com